Collapsible Carry Gun: 'No Bigger Than a Credit Card When Folded'
Written by AWR Hawkins, Breitbart
Published: 08 August 2017
Collapsible Carry Gun: 'No Bigger Than a Credit Card When Folded'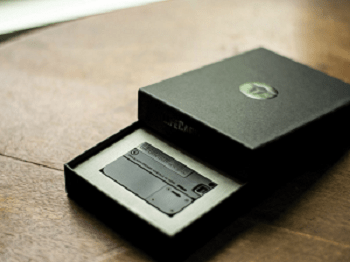 The LifeCard carry gun is a collapsible, single-shot .22 Long Rifle that is "no bigger than a credit card when folded."
The gun is manufactured by Trailblazer Firearms and designed to be a self-defense tool that is easy to carry and even easier to conceal.
In a press release sent to Breitbart News, the LifeCard is described as a "single-action, single-shot folding pistol, no bigger than a credit card when folded." Its frame is designed to be "no snag" and the "grip handle is constructed from fully-machined aluminum billet and hard-coat black anodized." The barrel, bolt and trigger are all "made of steel with an Isonite® finish for corrosion resistance."
When folded, the LifeCard is "3.375in. x 2.125in." and ".5in. thin." It weighs less than 7 ounces.
Featured GOA News & Updates