Gun Owners of America to file lawsuit over Trump's new bump stock ban
Written by Laura Widener, American Military News
Published: 18 December 2018
On Tuesday, President Trump followed through on his vow to ban bump stock gun accessories under federal law.
Second Amendment advocacy group Gun Owners of America announced shortly after that it would be filing legal action against the government in response to the ban.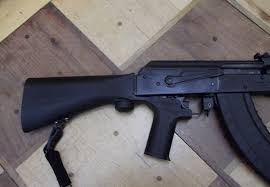 "Gun Owners of America (GOA) and its Foundation (GOF) will be filing suit against the Bureau of Alcohol, Tobacco, Firearms & Explosives (ATF) and the Department of Justice [DOJ] to seek an injunction protecting gun owners from their illegal prohibition of bump stocks," said a statement by the group.
The bump stock accessories will be banned under the same law that bans machine guns, a Justice Department official told the Associated Press.
To comply with the ban, those who own bump stocks will be forced to turn them over to the ATF or destroy them, the DOJ official told AP.
The ban effectively reverses the ATF's decision from 2010 that deemed bump stocks different from machine guns and unable to be subjected to the same regulation as machine guns.
Click here to see more GOA News articles like this one.
"The GOA lawsuit will demonstrate that the ATF bump stock ban is wholly unauthorized by statute, and completely inconsistent with all prior ATF rulings as to what constitutes a machine gun," GOA Spokesman Erich Pratt told American Military News…
An estimated "half a million" people own bump stocks, according to GOA.
Pratt said the lawsuit will be filed by Friday when the ban is officially published, at which time they will announce "other groups and parties" who join the case.
Featured GOA News & Updates