GOA Launches Empowered 2A
Written by Antonia Okafor
Published: 23 February 2021
It's finally here!
Our very first Empowered 2A zoom event is this Wednesday, Feb 24 at 8pm eastern time.
Join in on this virtual meeting completely for FREE!
Register in advance for this meeting: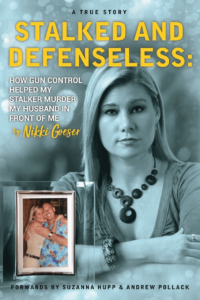 Empowered 2A is a coalition exclusively for our female GOA members.
Empowered 2A aims to provide education, training, and advocacy content that encourages and equips women of all ages in their gun ownership journey.
Empowering women through the Second Amendment is our goal! Stay tuned for monthly meetings like this one with female experts, authors, trainers, and activists in the Second Amendment community.
This month we kick off the launch of Empowered 2A with Second Amendment activist and personal defense champion, Nikki Goeser.
Nikki Goeser lives in Tennessee and is a graduate of the University of Tennessee at Knoxville where she earned her degree in Psychology. Nikki became a Second Amendment Activist and Victims' Rights Advocate after her husband "Ben" was murdered in front of her by her stalker.
She has been featured on programs such as Fox Business with John Stossel, Tucker Carlson Tonight, ABC News, CNN, the Sean Hannity Radio Show, The BBC, NRA News and The Investigation Discovery Channel. Nikki was awarded the Sybil Ludington Women's Freedom Award by the National Rifle Association in 2012 for her activism. She is the author of "Stalked and Defenseless" and is the Executive Director for the Crime Prevention Research Center.
We are excited to launch the start of Empowered E.T.A (Education, Training, Advocacy) Talks with Nikki Goeser this month! If you haven't already, make sure to sign up to subscribe to Empowered 2A emails and exclusive content.
See you THIS Wednesday AT 8pm eastern my fellow empowered self-defenders!
Featured GOA News & Updates