GOA Applauds Introduction of SHORT Act as ATF Pistol Ban Takes Effect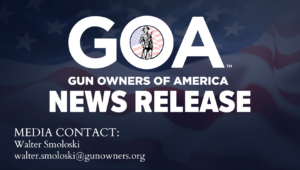 FOR IMMEDIATE RELEASE
Washington, D.C. – Today, Gun Owners of America (GOA) is excited to support the introduction of the SHORT (Stop Harassing Owners of Rifles Today) Act by Congressman Andrew Clyde (GA) and Senator Roger Marshall, M.D. (KS). This bill, which would remove the unconstitutional taxation, registration, and regulation in the National Firearms Act of Short-Barreled Rifles, Short-Barreled Shotguns, and those classified under "Any Other Weapons," was introduced today to coincide with the formal publication of the ATF's draconian pistol brace firearm ban, which will force Americans to destroy or register their approximately 40 million lawfully owned firearms.
Erich Pratt, GOA's Senior Vice President, issued the following statement:    
"Tens of millions of Americans are facing felony charges if they fail to comply with this executive fiat from the Biden Administration. This is the biggest gun grab in the history of our country, and we are fully committed to fighting this executive order at every turn."  
Aidan Johnston, GOA's Director of Federal Affairs, added: 
"The Stop Harassing Owners of Rifles Today (SHORT) Act will repeal elements of the archaic National Firearms Act, which the Biden ATF is using to justify their pistol ban and 'amnesty registration' plan — a policy change that affects millions of law-abiding gun owners and does nothing to curb rising crime. GOA is proud to support the SHORT Act, which will protect millions of gun owners, halt these anti-gun infringements, and restore liberty. GOA is grateful to Rep. Clyde and Senator Marshall for leading this No Compromise legislation to restore long-lost Second Amendment rights."  
Introduction of the bill was first covered by the Daily Caller, read more here.
GOA spokesmen are available for interviews.  Gun Owners of America is a nonprofit grassroots lobbying organization dedicated to protecting the right to keep and bear arms without compromise. GOA represents over two million members and activists. For more information, visit GOA's Press Center.