FL: Contact Your Lawmakers To Call For A Special Session For Constitutional Carry!
Written by Luis Valdes
Published: 15 April 2022
DO YOUR PART TO GET CONSTITUTIONAL CARRY PASSED IN FLORIDA! CONTACT YOUR LAWMAKERS!
If you live outside of Florida, you can still do your part and help. Call Governor DeSantis directly at 850-717-9337 along with emailing him at [email protected]. Tell him that Constitutional Carry must be added to the special session. Why? Because you will visit Florida more often if Constitutional Carry is passed and signed into law.
TELL YOUR LAWMAKERS THAT IT IS SINK OR SWIM TIME! THEY NEED TO SHOW WHERE THEY TRULY STAND ON THE SECOND AMENDMENT!
With twenty-five states now having Constitutional Carry, two of which border Florida, Gov. Ron DeSantis & Rep. Anthony Sabatini need your help to get a special session called for the issue of Constitutional Carry.
On March 29, the Governor called out the legislative leadership for failing to pass Constitutional Carry, and he urged them bring it to his desk for his signature.
I would love to have property insurance, I would love to have data privacy, I would love to have constitutional carry, there's a lot of great things. But you know, we just went through a legislative session where they failed to deliver on some of those priorities," DeSantis said. "I will ask the legislative leaders, is there something that you can get across the finish line? And I will encourage them to do that. Becuase I think there are a lot of key things that we could do. The initial call will just for the congressional maps. But it is absolutely possible that when we convene, they actually convene for the special session, that you can see additional issues raised in it.
He has stated that if needed, he will call a special session, but right now he wants the legislature to fix their own mess.
As such, Rep. Sabatini has stepped up to the plate and initiated the call for a Constitutional Carry Special Session in the legislature.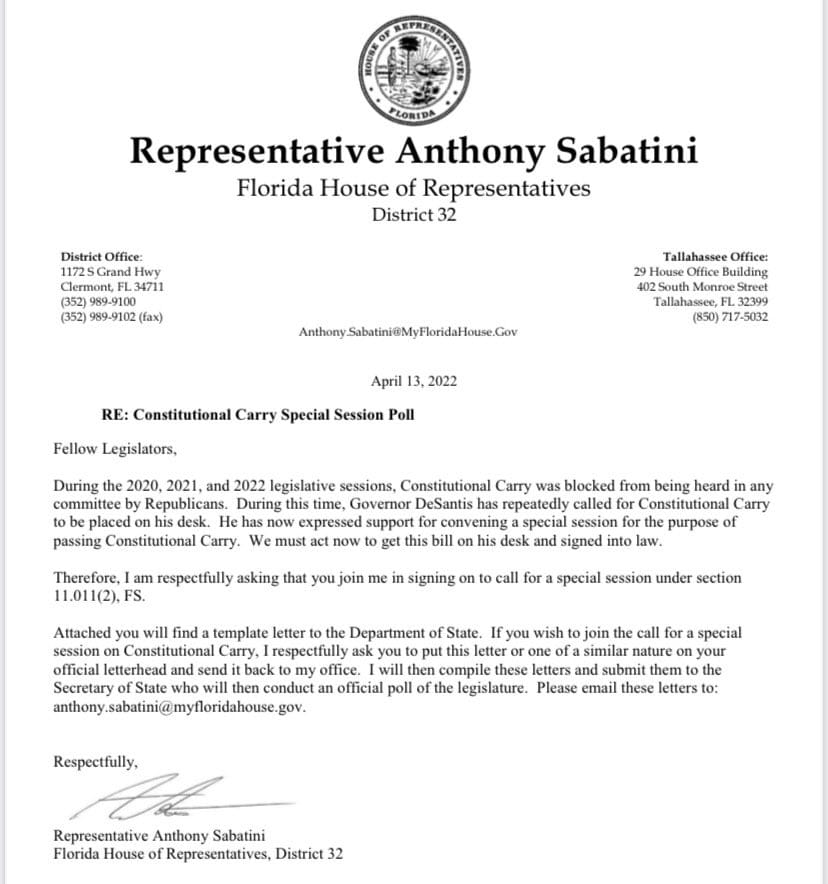 For the special session to be called in Florida, 20% of lawmakers from both chambers will have to petition the Secretary of State calling for the session.
If that benchmark is reached, the Secretary of State will conduct a formal poll of both chambers, and there must be an agreement of three-fifths of lawmakers in both chambers.
It's at that point a special session will be called.
Twenty percent means that thirty-two lawmakers must sign the initial petition sent out by Rep. Sabatini. The Republicans in the House and Senate have the numbers to act with or without Democrats signing on.
It is now sink or swim time for Republicans in the legislature, who claim to be pro-gun, to prove they're pro-gun.
As I have said in our previous alerts: ACTIONS SPEAK LOUDER THAN WORDS.
Our lawmakers now have to walk the walk, because they've talked the talk enough times already.
I still need you to call and email your lawmakers. I need you to have their phones ring off the hook and their inboxes overflow with messages.
HAVE YOUR LAWMAKERS PROVE THEY'RE PRO-GUN! HAVE THEM SIGN AND SEND THE CONSTITUTIONAL CARRY SPECIAL SESSION PETITION TO SECRETARY OF STATE LAUREL LEE!
The legislature serves us, the people. We have the power to motivate and make Constitutional Carry an issue that no lawmaker can escape.
So be PROUD and be LOUD!
Also, don't forget there will be a rally at the Capitol on April 20, 2022 to demand a Special Session be called for Constitutional Carry. I look forward to seeing you there!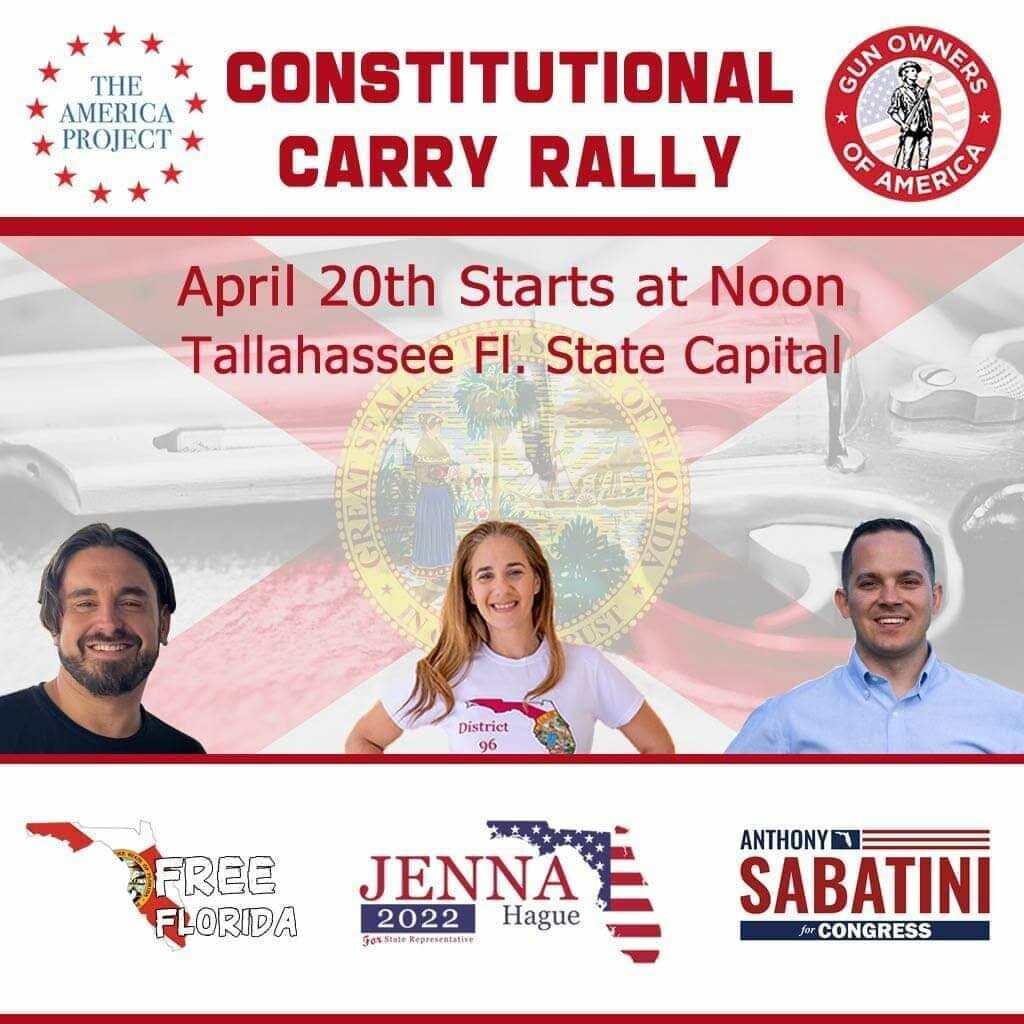 In Liberty,
Luis Valdes
Florida State Director
Gun Owners of America
P.S. Please distribute this alert to your pro-gun family and friends and urge them to take action. To renew your GOA membership or to join for the first time, please click here.