Father Saves His Daughter
Written by Brandon Curtis, Concealed Nation
Published: 13 November 2017
Father Steps In With Gun During An Attempt By Four People To Kidnap His Daughter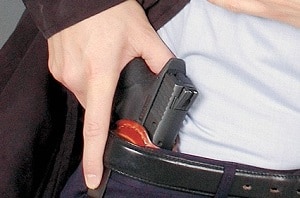 A group of four teenagers are accused to attempting to kidnap a family's daughter in an elaborate series of events that they had planned for some time. It didn't end well, though, because the target's father was armed and ready to fight these teenage thugs.
The local Sheriff's office shared the story on their Facebook page;
Four teens armed with a knife, guns and a roll of tape planned to kidnap and rob members of a Baker family last night, but their plot didn't go as planned and now all four are in custody. Inside their SUV deputies also found latex gloves, facial masks and dark clothing.
The Okaloosa County Sheriff's Office responded around 10:30 p.m. to a call of a possible home invasion robbery in progress at a home on Preservation Path.
The 51-year old homeowner says his 17-year old daughter had called him to tell him that someone had blocked the road to their house with barrels. Instead of getting out of her car she drove around them. A short time later her father heard his dogs barking and saw his front motion-activated flood lights come on. He also heard what sounded like his car door closing and went to get his gun. After spotting some individuals trying to force their way into his garage, he fired three shots and the intruders fled into the woods. He later learned they had unscrewed some of his security lights.
An alert neighbor who saw a suspicious car near her house around the same timeframe quickly called in a description of the vehicle to deputies, who spotted the 2016 White Jeep Liberty on Highway 4 and made a felony traffic stop.
Inside the car they found 19-year old Keilon Johnson, 17-year old Austin French, 16-year old Tyree Johnson, and 15-year old Kamauri Horn, all of Crestview.
The OCSO investigation revealed the teens had concocted a plan to kidnap the teenage daughter. The goal was to first force her out of her car by blocking the road with barrels and garbage cans. (However their intended victim drove around the barrels and kept going.) They then planned to head to her house, confront and subdue her father – who they believed to be wealthy – and rob the home.
Instead all four defendants are now charged with attempted kidnapping and attempted home invasion robbery. 19-year old Keilon Johnson was booked into the Okaloosa County Jail. The other defendants were transferred to a Department of Juvenile Justice facility.
When something seems off, go with your instincts. Aside from this being a self-defense story with firearms, we also witness a young woman who has the mindset to drive around the strange barricade and call her father to tell him what was happening.
Featured GOA News & Updates