Boyfriend Shoots Armed Robber Who Approached His Girlfriend At ATM
Written by Brandon Curtis, Concealed Nation
Published: 28 June 2019
NORTH PORT, FLORIDA — An armed robber is in the hospital after being shot by the boyfriend of a woman he was trying to rob at gunpoint as she was standing at an ATM.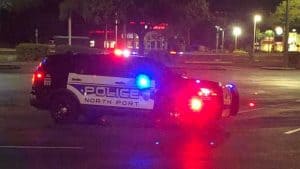 The first thought regarding this story; try to avoid places like the ATM after dark.
It happened shortly before 10:30pm on Thursday. Police say a woman was at the ATM at the Suncoast Credit Union on Aidan Lane while her boyfriend waited in the car.

While she was at the machine, a man with a loaded handgun walked up to her. The woman's boyfriend, seeing what was happening, got out of the car and shot the robber several times.

via mysuncoast.com
Police arrived to the scene, and shortly after were able to locate the driver and the suspect less than a mile away. The robber was flown to a Sarasota hospital for treatment.
From the story, it appears that the woman and her boyfriend left after the self-defense shooting. The boyfriend then went to the police station to report what had happened. His story matched witness accounts, video surveillance, and the guilty conscience of the suspect…
Featured GOA News & Updates