Important update on Democrat elder care gun confiscation bill in New Hampshire
Written by Alan Rice
Published: 27 June 2019
The Pro-Gun Community is Totally Opposed to HB 696!
Dear Friend,
Make no mistake, contrary to reports on social media, GOA and GONH (the NRA-state affiliate) both agree that HB 696, the elderly red flag gun confiscation bill, should be vetoed.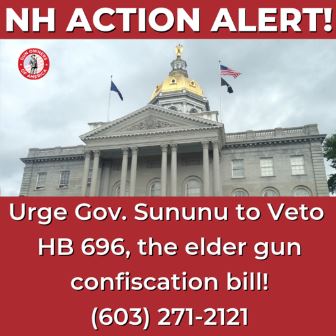 We are cautiously optimistic that Governor Sununu will veto the bill and the veto will be sustained. 
We are united in opposition to HB 696, because, among other things, the proposed Section 173-D:11 violates the Fourth Amendment by bypassing the requirement to obtain a search warrant.  Please click here for all the details on why HB 696 is anti-gun.
Furthermore, if the sponsors of HB 696 truly wish to protect the elderly, they should familiarize themselves with R.S.A. 631:9 Financial Exploitation of an Elderly, Disabled, or Impaired Adult.  HB 696 is not even needed.
So when you contact Governor Sununu, ask him to demand that the sponsors make public information on their contacts with the gun- hating Giffords Organization.  
It would do well to remind Governor Sununu that he has said, many times, that New Hampshire gun laws are fine and don't need changing.  This is the exact same position taken by both of his Democrat predecessors.  
You can call Governor Sununu at (603) 271-2121.
Please let Governor Sununu know that you support GOA, and you are completely opposed to the amended version of HB 696 and you expect him to veto the bill.
Featured GOA News & Updates