Autopsy Report: Bonnen Shoots Down Constitutional Carry
Written by Cary Cheshire, Texas Scorecard
Published: 26 July 2019
A top priority for the Republican Party of Texas and gun owners across the Lone Star State for over a decade, efforts to eliminate the requirement of a state gun permit were once again defeated in this past legislative session.
As he had in previous sessions, State Rep. Jonathan Stickland (R–Bedford) led the effort to pass constitutional carry—filing House Bill 357, which would end the state's requirement for Texans to receive permission from the government to exercise their right to keep and bear arms in public.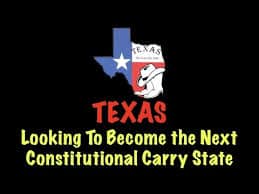 Unfortunately for Second Amendment advocates, no similar legislation was even filed in the Texas Senate, where Lt. Gov. Dan Patrick has never been warm to the idea…
Rachel Malone, the Texas director for Gun Owners of America, summarized gun rights supporters' frustration with the failure of the Texas Legislature to move the legislation.
"I am strongly disappointed that Texas leadership has failed to prioritize constitutional carry. Texas continues to lag behind in recognizing the individual right to keep and bear arms," she told Texas Scorecard at the time. "While the majority of states allow some form of permitless handgun carry outside of one's domain, Texas still requires a government permit."
"It is unacceptable that this bill is still languishing without being moved out of committee. Gov. Abbott, Lt. Gov. Patrick, and Speaker Bonnen, it's time for you to take action and stand strong for human rights by prioritizing passage of constitutional carry," she added…
Featured GOA News & Updates