GOA Supporting Gun Makers Against ATF Shut Downs
Written by S.H. Blannelberry, Guns America Digest
Published: 17 May 2022
"This is nothing more than total B.S.—that is, Blame Shifting by the anti-gun Left," said Erich Pratt, Senior VP of GOA… "Rather than blame their own failed policies for the rise in crime, Leftists are instead trying to blame homemade guns for the rise in crime."
---
A coalition of antigun forces is urging the Bureau of Alcohol, Tobacco, Firearms and Explosives (ATF) to shut down Polymer80, a popular manufacturer of AR receivers, pistol frames and handguns.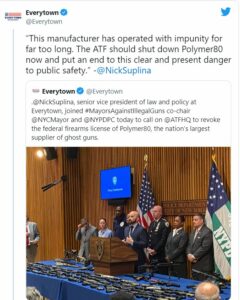 New York City Mayor Eric Adams, New York City Police Department (NYPD) Commissioner Keechant Sewell, and Everytown for Gun Safety Action Fund are behind the move to get the ATF to revoke Polymer80's federal firearms license.
They claim that 86 percent of the 1,475 so-called "ghost guns" entered into the ATF's National Integrated Ballistic Information Network database in 2019 were manufactured by the Nevada-based company.
"We must get ghost guns out of our communities, and those that manufacture them must be shut down," said Mayor Adams. …
Antigun activists believe now that the Biden administration's moved the goalposts on what's considered a "firearm," it should also necessitate the disbandment of a company that hasn't broken the law.
"Ghost guns are a dream come true for criminals, so it should come as little surprise that Polymer80, the largest maker of these untraceable weapons, has shipped its deadly goods to felons," said John Feinblatt, president, Everytown for Gun Safety.
"Now that President Biden has taken action against ghost guns, it's time for ATF to do its job and shut down Polymer80," he added.
GunsAmerica reached out to Polymer80 for comment on this matter.
"Polymer80 is a lawful company, has always complied with laws, and will continue to comply with laws," the company said in an email to GunsAmerica.
"Polymer80 has always defended, and will continue to defend, the Second Amendment and the rights of customers to lawfully engage their freedom," it continued. "We believe the new rule is, among other things, unconstitutional and infringes or violates law and are weighing all legal options."
Polymer80 flat-out said that the new rule and this coordinated attack on its right to conduct lawful commerce will not stop its "growth or mission," adding, "We will continue to grow and innovate and be a leader within the industry."
Gun Owners of America (GOA), a pro-gun organization, defended Polymer80 in the wake of this call to run them out of business.
"This is nothing more than total B.S.—that is, Blame Shifting by the anti-gun Left," said Erich Pratt, Senior VP of GOA in an email to GunsAmerica.
"For two years, they have advocated policies to defund the police and throw criminals back on the street. But rather than blame their own failed policies for the rise in crime, Leftists are instead trying to blame homemade guns for the rise in crime. However, the actual statistics don't support their claims," he said.
To further his point, Pratt noted the following:
According to the Department of Justice, privately made firearms were found at 692 homicide or attempted homicide crime scenes over a six-year period. That means that, at worst, out of more than 16,000 yearly murders, homemade guns are used in around 115 homicides per year. That's far fewer murders than many common items which are easily found around one's house — such as knives (1,476), hammers or blunt objects (397), or fists and feet (600).
"The spike in crime across our country is the result of the failed leadership and the social policies of left-wing radicals. It has nothing to do with firearms enthusiasts building guns in their garages and home workshops," he concluded.
Read more at Guns America Digest