NASCAR's David Gilliland to Drive GOA Car at Irwindale Speedway this Saturday
Written by Gun Owners of America
Published: 15 July 2014
— Come out and bring the kids to Family Night!

David Gilliland, driver of the No. 38 car in the NASCAR Sprint Cup Series, will take the wheel of the Gun Owners of America car in the Super Late Model race at Irwindale Speedway this Saturday, July 19.
Gilliland will be joined by his father Butch (a retired NASCAR driver) and son Todd as three generations of one of southern California's favorite and best-known racing families will be on the track and competing in the same race for the first time ever!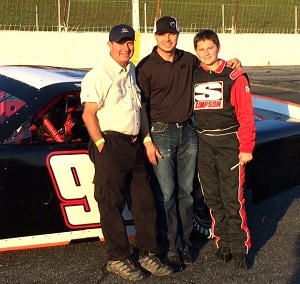 Fans are invited to come out and meet the Gillilands before the race at 5:45 pm at Irwindale's famous On-Track Autograph Session.
All three generations of the Gilliland drivers, their cars, and their crews will be on hand right down on the racetrack before the racing starts.
It's a great time to get up close and personal with the stars of live, local Saturday night NASCAR Home Track racing … and another great reason to bring the kids!
On Saturday, July 19, kids 12 and under will be admitted free with a regular full price adult admission (one kid for each adult ticket … tickets must be purchased at the track's ticket window).
Adding to the fun and festivities, Irwindale's delicious hot dogs, tacos, and regular sodas will only be $1.00 each on July 19! Tickets are available on-line at www.irwindaleeventcenter.com. (Link no longer active)
The GOA car is owned and operated by Tri-Signal Motor Sports. Dennis Furden, owner/driver of Tri-Signal Motor Sports, is an avid Second Amendment supporter who started his racing career in 1972 at the age of 11. He has competed and won more than 100 races in his 40 plus years of driving. He has competed at various levels and recently finished 6th place in points in the NASCAR Whelan All American Series Super Late Model division.
For more information, please go to http://www.gunowners.org/nascar.htm
Featured GOA News & Updates