[GOA Alert] Gun Owners Came Close to Defeating Fix NICS Gun Control
Written by Erich Pratt
Published: 28 March 2018
Fix NICS Gun Control Passes, Trump Moves to Ban Bump Stocks
---
Not a GOA member yet? We need you more than ever right now!
---
Anti-Gun Marchers Descend on Washington, Even While Gun Owners Come Close to Defeating Gun Control
Dear Friend:
What a week it's been.
On Saturday, I led a team of students to counter-protest the gun control march in Washington, DC.
And then with the help of another student reporter, we interviewed people on the street who were marching for gun control.
The results were quite hysterical and very entertaining!
It was all captured on video — and it went viral. This video has now gathered over two million views on Facebook in just two days.
In short, no marcher we interviewed could name a single gun control law that criminals would obey, but they were all sure that arming adults in schools would not work to save lives.
You can view the viral video here or here. Please share it with your friends!
We Fell Just Two Votes Short
Also within the past week, the Swamp Creatures on Capitol Hill pulled out a razor-close victory with regard to the anti-gun Omnibus.
By a margin of two votes, the House narrowly passed the Omnibus Appropriations Bill last Thursday by a vote of 211-207.
Had only two members changed their votes, the vote would have been 209-209 — and the gun-controlled Omnibus would have gone down.
Instead, the anti-gun spending bill went to the Senate and then to the President for his signature.
You can view the 25 pro-gun hero Republicans who voted NO on the "rule" in the House and who brought us within two votes of killing gun control.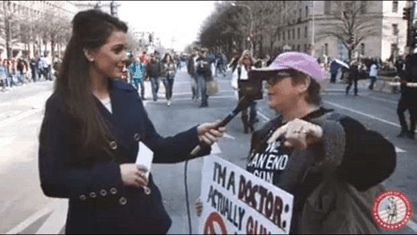 Likewise, you can click here and here to see which Senators protected your rights by voting against the Omnibus in the Senate. (The correct vote in both cases was "Nay.")
Gun Control in the Omnibus
The Omnibus bill, that the President signed, contains a gun control provision (Fix NICS) which could strip millions of veterans, seniors, medical marijuana smokers, traffic ticket violators, and others of their constitutional rights — without substantive due process.
Late last year, the House leadership team guaranteed that the anti-gun Fix NICS bill would not move separately, without reciprocity added.
But that was a lie. And as a result, many pro-gun congressmen are upset.
"What we were told by our leadership is directly opposite what is happening today," said Rep. Jim Jordan (R-OH).
The bill also contained a "school safety proposal," which prohibits money from being used for guns and gun training.
So none of the Omnibus funds can be used to arm teachers — or school resource officers, such as the hero who stopped a shooting at a Maryland school this week.
By the way, some congressmen will try to fool voters in their district by appealing to the fact that they voted against the omnibus on final passage.
What this ignores is that they voted FOR the bill before they voted against it — hence the reason that the rule vote was so important.
That was the one chance that we had to kill the bill, and those who voted for the rule effectively made sure that gun control would pass.
Your Activism was Instrumental
I want you to know that the activism from gun owners made a world of difference.
By acting on GOA's alerts, you were part of the largest pro-gun advocacy group that was fighting this anti-gun omnibus.
And thanks to you, we came within two votes of stopping gun control.
All of this, despite the overwhelming support by the NRA and the Republican leaders for the anti-gun Fix NICS bill.
Senate Majority Leader Mitch McConnell was a cosponsor of Fix NICS in the Senate (S. 2135), and both House Speaker Paul Ryan and the President wanted the "Take the Guns First" provision stuck into the omnibus.
And yet, even though we were fighting an uphill battle, we came within a whisker of defeating gun control in the House.
---
Up the Pressure on Congress and POTUS!
Get pre-written postcards
that are sent to all GOA members:
---
President Trump Sets Sights on Bump Stocks
Finally, on the day before the March for Gun Control, the Trump administration issued a proposed rule to ban bump stocks.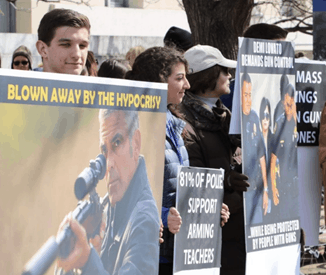 Gun Owners of America is opposed to this proposed rule and considers it yet another infringement of our Second Amendment-protected rights.
"Shall not be infringed" means what it says — gun control should NOT be the jurisdiction of the U.S. government.
To be sure, banning these items will not make us any safer and it will only lead to more infringements — to restrictions on magazines, match triggers and more.
It's unfortunate that the Trump administration is placing itself to the left of the Obama administration, which determined in 2010 that bump stocks did not convert a semi-automatic firearm into a fully-automatic weapon.
After the 90-day public comment period is over, Gun Owners of America will seek out other pro-gun organizations to join us challenging this illegal executive action in court, once the rule becomes finalized.
And we predict that an honest, constitutional and legal analysis by the courts will result in this regulation being struck down.
In Liberty,
Erich Pratt
Executive Director
Follow me on Twitter: @erichmpratt
P.S. If you've let your membership lapse, make sure to renew your membership in Gun Owners of America today for only $20!
Featured GOA News & Updates