Concealed Carry Reciprocity Looking More Likely
Written by Erich Pratt
Published: 21 April 2017
Your Activism is Helping to Push Concealed Carry Reciprocity in Congress!
"I know your members have been very active and very persuasive." — A Senate aide explaining the effectiveness of GOA members and activists, April 4, 2017 
---
---
Concealed Carry Reciprocity Still Gaining Momentum
(See how you can TAKE ACTION below!)
Dear Friend:
I was in a congressional office recently with several members of GOA's staff.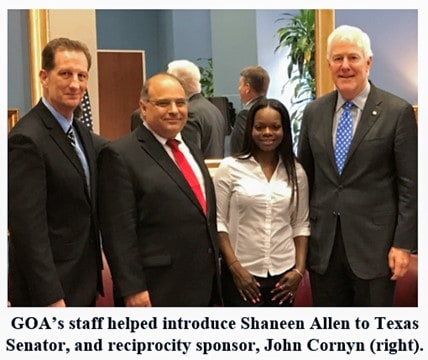 We had been walking the halls of Congress, introducing Shaneen Allen to several congressional offices.
Shaneen is the Philadelphia mom who was incarcerated for over 40 days — all because her Pennsylvania carry permit was not recognized in New Jersey.
To put it mildly, Shaneen would greatly benefit from concealed carry reciprocity legislation.
So in one particular office, we were discussing how we can get more cosponsors for the concealed carry reciprocity legislation in Congress.
The bill in the House of Representatives is H.R. 38; the Senate bill is S. 446.
The congressional staff acknowledged that GOA had done a phenomenal job in getting cosponsors to these bills in just a couple of months.
And that's when one of the aides said: "I know your members have been very active and very persuasive" in getting additional cosponsors. 
You may not realize it, but your involvement makes my job at Gun Owners of America so much easier.
It's your emails — and postcards, if you are a full-fledged GOA member — that makes congressmen sit up and take notice of Second Amendment issues.
Your activism forces them to take action on legislation that they might, otherwise, just simply ignore.
Almost Half of the House Has Cosponsored H.R. 38
(See below how you can GET MORE cosponsors!)
Here's where we are at.
The bill in the House, H.R. 38, has 188 cosponsors. You can click here to see if your Representative has cosponsored the bill.
The Senate bill, S. 446, has 36 cosponsors.  While no Democrats have cosponsored the bill, more than half of the Republicans have.
Here are the Senate Republicans who still need to cosponsor the bill:  Alexander (TN), Burr (NC), Cassidy (LA), Collins (ME), Corker (TN), Cotton (AR), Gardner (CO), Kennedy (LA), Lee (UT), McConnell (KY), Paul (KY), Risch (ID), Sasse (NE), Scott (SC), Tillis (NC) and Toomey (PA).
GOA's postcards are landing on Capitol Hill right now
(TAKE ACTION below to get more cosponsors!)
GOA's most recent mailing on national reciprocity — with postcards addressed to U.S. Senators — is currently landing in people's mailboxes.  
And GOA members are mailing in those postcards to Capitol Hill, by the thousands.
With all of this momentum behind us, this GOA-mailing couldn't be landing at a better time.
I want you to know that sending the emails we ask you to send is very helpful.  So is making phone calls from time to time.
But there is nothing like heaping mounds upon mounds of postcards and letters on legislators' desks.
I'll never forget what one congressional office told us when we killed a background check expansion bill in 2006:
"Oh s—t! We got a lot of postcards and emails from GOA members," one legislative aide said. 
And that pretty much says it all.  The postcards landing on their desks get their notice.
So if you haven't received our postcards in favor of concealed carry reciprocity, I encourage you to take these actions:
1. Sign up to start getting postcards every month.  It's merely $20 to join GOA for a year — less than a box of most ammo.
2. Send emails to your Representative and Senators, explaining the importance of supporting H.R. 38 and S. 446 — and pushing to get a vote on this legislation.
3. Forward this alert to your pro-gun family and friends.
Thank you for your help.
In Liberty,
Erich Pratt
Executive Director
P.S. Start getting postcards so you can add to the deluge of GOA postcards landing on legislators' desks. Also, send emails today to your Representative and Senators, expressing your support for immediate action on H.R. 38 and S. 446.