Gov. Brown is Trying to Revoke Your 2nd Amend. Gun Rights in Oregon
Written by Michael Hammond
Published: 19 January 2017
Anti-Gun Bill Could Potentially Shut Down Gun Purchases in Oregon

Click on the Take Action button to urge your state Senator and state Representative to oppose Gov. Kate Brown's comprehensive gun ban, HB 2237.
---
Not a GOA member yet?  You can join Gun Owners of America today for only $20!
---
Urge Your State Legislators to Protect the 2nd Amendment!
Dear Friend:
If you thought the anti-gun crazies would be satisfied with outlawing private firearms purchases in Oregon, think again.
Now that private purchases are illegal in this state, anti-gunners are moving to allow state police to permanently block any gun sale, whether or not they have ANY evidence that the purchase should not be completed.  
This bill, HB 2237, has been introduced at the request of leftist loon Gov. Kate Brown (D).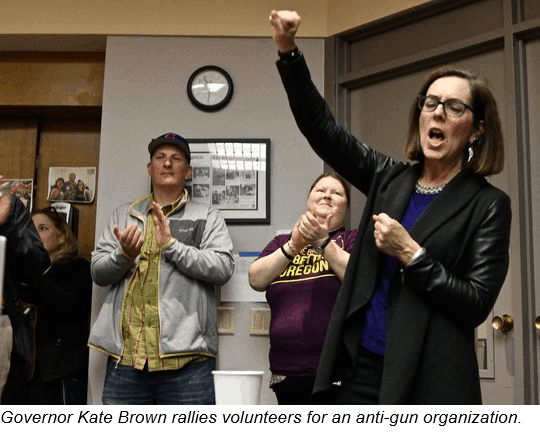 Under current law, police have three days to conduct a background check.  If they have nothing at the end of that time, the seller MAY (but is not required to) consummate the sale.  
The Oregon State Police have done a notoriously shoddy job of expeditiously conducting background checks.  And potential purchasers are constantly complaining that police drag their feet for long periods of time before giving a definitive answer about whether the sale is lawful.
As a matter of fact, nationally, 95% of initial denials are "false positives." And, almost always, an answer never comes. And this is under a law that PERMITS a sale after three days of waffling.  
What if the State Police could block ALL firearms sales by simply refusing to give a definitive answer?  Large numbers of gun transactions — or perhaps even, in the extreme, ALL gun transactions — could be blocked because the State Police refused to take a position on their legality.  
Take into consideration that, in none of these blocked transactions do police have evidence that the purchaser does not have an absolute statutory and constitutional right to purchase the gun.  Rather, the police claim to just not know.  
The anti-gun crazies claim that to allow a gun purchase in the face of NO evidence which would suggest it was illegal is a "loophole." A "loophole" seems to be the word du jour for these brain-dead statists.  
But understand this: The Brady Campaign agreed to the current system for a reason. And that reason was that, if the government were not forced to give an answer in three days, the bill would have given the government the authority to potentially block EVERY gun transaction, just because it hates guns.
Please contact state your Senator and state Representative and ask them to oppose Kate Brown's comprehensive gun ban, HB 2237.
Sincerely,
Michael Hammond
Legislative Counsel  
P.S. Please forward this email to your pro-gun family and friends. And contact your state Senator and state Representative and ask them to oppose Kate Brown's comprehensive gun ban, HB 2237.       
Featured GOA News & Updates