Gun confiscation passes out of Virginia committee
Written by Michael Hammond
Published: 14 January 2020
URGENT ACTION: Tell your Senator to OPPOSE SB 35, 69, 70 and 240
UPDATE: Virginia Senate voting on January 16!
Legislators Send Gov. Northam's Gun Confiscation Agenda to the Senate Floor
It didn't take long for anti-gun Democrats to move legislation authorizing middle-of-the-night gun raids and National Gun Registries.
These are the gun restrictions that passed out of the Senate Judiciary Committee on Monday: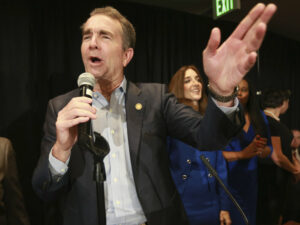 1) SB 240: Red Flag Gun Confiscation Orders. This bill throws Due Process out the window and allows for your rights (and your guns) to be stripped from you — even though you've never had your day in court to explain your innocence.
In states that have these laws, false allegations have resulted in middle-of-the-night raids where gun owners have been killed or had their guns confiscated.
2) SB 70: Universal Gun Owner Registries. This bill would ensure that every gun sale in Virginia had a Form 4473 attached to it. Since the ATF is now going around and (illegally) copying those forms, this would mean that every gun sale in Virginia could be sucked up into this de facto national gun registry.
This would also mean that, if semi-automatics are ever made unlawful in Virginia, Governor Ralph Northam's storm troopers would have a handy list of homes to raid.
For the time being, the semi-auto ban has been shelved. But we expect we will shortly see a revised ban which "graciously" allows 1.5 million Virginians to keep their guns, but requires them to be registered.
This process, known as the "New Zealand Two-Step" makes it easy to confiscate all of these guns the first time that a new tragedy gives Northam a new excuse.
3) SB 69: One handgun a month. This bill would bring back the failed rationing system that was repealed in 2012. The Virginia Tech murderer killed 34 students and teachers in 2007 after purchasing two handguns one month apart — thus complying with Virginia's then one gun a month law. That law did not save one life. And yet Governor "Blackface" Northam thinks this is "common-sense gun control."
4) SB 35: Gun Control for Localities. This omnibus bill would destroy preemption and allow localities to impose a confusing patchwork of unconstitutional gun restrictions throughout the state.
All the above bills passed on a strict party-line vote in committee — Democrats supporting them, Republicans opposing.
Please contact your state senator (above) and urge him or her to reject every aspect of the Democrat gun control agenda.
And if you can call them as well, this would go a long way.
Look up your legislator here to get his or her phone number.
Thank you.
Featured GOA News & Updates