Gun Owners Needed in Austin to Support HB 375
Written by Tim Macy
Published: 22 March 2017
Click on the Take Action button (if you live in Texas) to urge your state representative to support Constitutional Carry (HB 375)! (Link no longer active)
/* Style Definitions */ table.MsoNormalTable {mso-style-name:"Table Normal"; mso-tstyle-rowband-size:0; mso-tstyle-colband-size:0; mso-style-noshow:yes; mso-style-priority:99; mso-style-parent:""; mso-padding-alt:0in 5.4pt 0in 5.4pt; mso-para-margin-top:0in; mso-para-margin-right:0in; mso-para-margin-bottom:8.0pt; mso-para-margin-left:0in; line-height:107%; mso-pagination:widow-orphan; font-size:11.0pt; font-family:Calibri; mso-ascii-font-family:Calibri; mso-ascii-theme-font:minor-latin; mso-hansi-font-family:Calibri; mso-hansi-theme-font:minor-latin;}
Dear Texas Gun Owner,
Gun Owners of America is calling on all Second Amendment supporters to come en masse to Austin to show your support for HB 375 – a Constitutional Carry bill — next Tuesday, March 28, 2017 at 8:00 a.m.
As you know, Texans shouldn't have to beg government for permission to bear arms.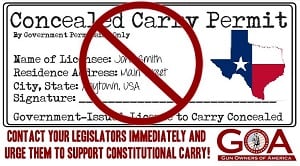 And showing your support is easy. Just turn out to the state capitol!
You don't have to speak, but you can register your opinion at the capitol using a kiosk or by logging in to your own device onsite.
Turnout is requested next Tuesday, March 28, 2017, at 8:00 a.m.
If you can't make it to Austin, please call Homeland Security & Public Safety Committee Chairman Phil King at (512) 463-0738 and ask him to support HB 375.
Also, please contact your state representative to cosponsor Constitutional Carry or thank him or her for already doing so. 
With your help, we can make Texas the fourteenth Constitutional Carry state!
In Liberty,
/* Style Definitions */ table.MsoNormalTable {mso-style-name:"Table Normal"; mso-tstyle-rowband-size:0; mso-tstyle-colband-size:0; mso-style-noshow:yes; mso-style-priority:99; mso-style-parent:""; mso-padding-alt:0in 5.4pt 0in 5.4pt; mso-para-margin-top:0in; mso-para-margin-right:0in; mso-para-margin-bottom:8.0pt; mso-para-margin-left:0in; line-height:107%; mso-pagination:widow-orphan; font-size:11.0pt; font-family:Calibri; mso-ascii-font-family:Calibri; mso-ascii-theme-font:minor-latin; mso-hansi-font-family:Calibri; mso-hansi-theme-font:minor-latin;}
Tim Macy
Chairman
Gun Owners of America
Featured GOA News & Updates