Look who's lying now! — Sen. Landrieu claims pro-gun stance despite her horrid voting record
Written by Gun Owners of America
Published: 03 October 2014
Breitbart news reported this week that your Senator Mary Landrieu (D) is trying to deceive you into thinking she has been the best friend of the Second Amendment.
But this is typical Washington-style politics.  Anti-gunners like Landrieu will vote to eviscerate the Constitution and to restrict your Second Amendment rights, but at election time, they tell you they've been with you all along.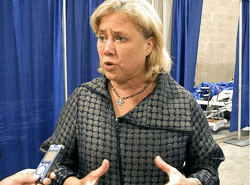 This is exactly what Sen. Landrieu is doing, but it's a complete and utter lie!  After all, she has even earned the endorsement of Everytown for Gun Safety — the group that was founded and funded by the anti-gun Michael Bloomberg.
You will see why Gun Owners of America has rated Landrieu as an "F" — and why her claims to be pro-gun just don't wash.
ACTION: Please distribute this alert to as many people as you can.  Distribute this to all of your state lists — and to your friends and family in the state.