Constitutional Carry is One Step Closer to Becoming Law!
Written by admin
Published: 03 June 2015
GOOD NEWS! Constitutional Carry has passed the Senate and House in Maine. This means that we are one step closer to letting law-abiding citizens carry firearms without an overreaching (and unconstitutional) permitting process.
But now is not the time to let up. We know the gun grabbers, especially Bloomberg and his cronies, have poured millions into gun control campaigns, trying to stop pro-gun bills like this one.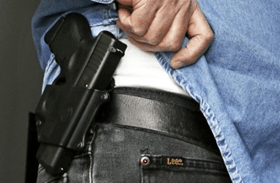 However, we can still do something about it. This is why it's more important than ever to contact Governor Paul LePage (R) and tell him to sign LD 652/SP 245 into law.
GOA has made it easy for you. In our pre-written letter, you can contact Governor LePage in just a few clicks!
We are so close to restoring the FULL Second Amendment right to carry in Maine. Contact the Governor and finish the fight for constitutional carry!
ACTION: Click here to urge Governor LePage to support LD 652/SP 245. If you are a registered voter, be sure to add that in the email!
Featured GOA News & Updates