Will This be the End of the Waiting Period?
Written by admin
Published: 15 June 2015
Pick up your phone right now.
The Legislature recently sent a great, pro-gun bill to Governor Walker.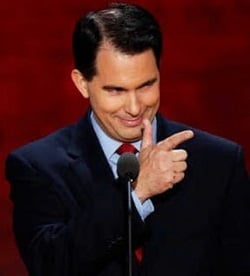 Senate Bill 35 eliminates the waiting period to purchase a gun — a bill that Governor Walker has said he will sign. But given that he is under attack by gun grabbers, it is always good for officials like him to get positive reinforcement from their friends.
So call Governor Walker right now at (608) 266-1212. Encourage him to sign SB 35. Be sure to mention you are a GOA member.
The background check law is another failed product of the 1970s. The only purpose of a waiting period is to harass law-abiding citizens.
Even worse, the waiting period jeopardizes the lives of women threatened by abusers who aren't intimidated by a paper order — like the New Jersey woman who was recently murdered while waiting for government "permission" to buy a gun.
ACTION: Call Governor Walker right now at (608) 266-1212. Urge him to sign SB 35 — and thank him for his support of gun owners.
Featured GOA News & Updates