St. Louis couple charged with felony after confronting mob
Written by Chad Groening, Billy Davis (OneNewsNow.com)
Published: 20 July 2020
A  Second Amendment advocate is praising Missouri's governor for vowing to support a husband and wife who are facing a felony for arming themselves and confronting a mob that marched past their home.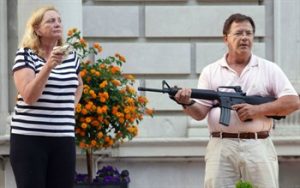 Gov. Mike Parson stated in a July 18 radio interview that he would pardon Mark and Patricia McCloskey if a St. Louis prosecutor charges them over the June 28 incident, when they brandished guns after Black Lives Matter demonstrators tore down the gate to the private upscale neighborhood…
Gov. Parson made that comment just days before Circuit Attorney Kim Gardner announced the McCloskeys were being charged with unlawful use of a weapon, a Class D felony that carries a maximum four-year prison sentence.
Mike Hammond, legislative counsel to Gun Owners of America, says he is pleased that U.S. Sen. Josh Hawley has publicly defended the couple and now the state's GOP governor has come to their defense, too.
"Good for them," Hammond says. "I was born and raised in Missouri, in Kansas City, and by and large it's a state with really sensible people. I think they've demonstrated it again here."
Criminal charges from Gardner were not unexpected after law enforcement served a search warrant last week for the firearms, but that action prompted Sen. Hawley to call for the U.S. Justice Department to launch a civil rights probe into the prosecutor's conduct…
Read more at One News Now
Featured GOA News & Updates