Constitutional Carry Gets a Hearing
Last week, the Georgia legislature held hearings on a "constitutional carry" bill sponsored by state Rep. Jason Spencer (R-180).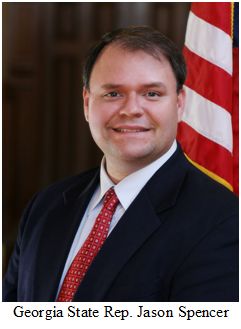 His legislation, HB 679, will allow residents to carry a concealed firearm without first having to get a permit from the government.
Several gun owners testified at the hearing in favor of Spencer's bill. For example, Georgia Gun Owners' Patrick Parsons said, "Individuals have to travel to their county probate, fill out papers, pay a tax, get fingerprinted, submit to background checks and in many cases, wait weeks, if not months, to receive their license."
But Putnam County Sheriff Howard Sills spoke against the bill, claiming that removing the gun licensing requirement could be dangerous. "We consider it a public safety issue, and we are very concerned many other legal impediments would result from that," Sills said.
As if criminals really wait in line to get carry permits!
Although Rep. Spencer thinks the bill has a good chance of passing, he says it will probably have another hearing first. Please stay tuned.