GOA Blasts Anti-gun Democrats as Tyrants who Prefer Their Subjects Unarmed
Written by A.W.R. Hawkins at Breitbart.com
Published: 21 August 2015
GOA Blasts Anti-gun Democrats as Tyrants who Prefer Their Subjects Unarmed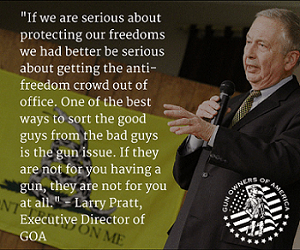 On August 20, Gun Owners of America executive director Larry Pratt described the Democratic Party on the federal level as "increasingly" tyrannical and focused on passing laws to take guns away from law-abiding Americans.
Pratt said, "The Democrat Party has increasingly become a party of tyranny. And you can't be a good tyrant if there are a whole bunch of schlubs running around with guns."
And Pratt is not wrong. The link between federal-level Democrats and a relentless push for gun control is undeniable. Obama craves it, Sen. Chuck Schumer (D-NY), Sen. Chris Murphy (D-CT), Sen. Joe Manchin (D-WV), and Sen. Richard Blumenthal (D-CT) continually push it, and Representatives like Elizabeth Etsy (D-CT-5th) and Rep. Mike Thompson (D-CA-5th) eagerly promote it.
Just since the heinous December 2012 attack at Sandy Hook Elementary, Democrats have pushed "high capacity" magazine bans, "assault weapon" bans—that included shotguns and certain other guns besides rifles—AR-15 ammo bans, expanded background checks, new online ammo sales regulations, new online gun sales regulations, new gun show regulations, new gun trafficking laws, gun control laws under the auspices of domestic violence prevention, and on and on.
But this push has been consuming the Democratic Party for longer than the last three years. For example, on September 13, 2014, the New York Times admitted that Democrats literally made up the term "assault weapons" in order to create an entire class of guns that they could then try to ban.
Moreover, the Times pointed out that …
Follow AWR Hawkins on Twitter: @AWRHawkins. Reach him directly [email protected].
Featured GOA News & Updates