Gun Control in VAWA Doesn't Protect Women, or Anyone Else!
Written by Erich Pratt
Published: 15 October 2021
GOA is working hard to generate massive opposition against the red flag gun confiscation orders that are currently in VAWA, or the Violence Against Women Act (H.R. 1620).
I recently appeared on Instagram Live with Kerry Slone of We the Female to discuss this dangerous threat to our 2A rights.
In addition to being a gun trainer, Kerry is the plaintiff in GOA's lawsuit which is challenging Washington State's infamous I-1639 gun control law.
On her show, Kerry and I talked about how VAWA's gun control actually makes women less safe.
And we rallied her mostly female audience to contact their U.S. Senators and oppose VAWA if it contains red flag gun confiscation orders. The response from the audience was fantastic!
Please take action here. And when you use GOA's prewritten letter, you will be making the very same point to your U.S. Senators – that VAWA's gun control makes everyone less safe, including women.
And speaking of women and guns, please check out the Empowered 2A event that is occurring on November 13 in Houston, Texas. See the details at the bottom of this alert.
Gun Control is Racist
This month, I also appeared on a YouTube talk show that is hosted by Shermichael Singleton to discuss the anti-gun provisions in VAWA.
Shermichael is a political commentator who frequently appears on MSNBC. But MSNBC is probably not where you've seen this pro-gun talking head.
Shermichael is one of the two co-hosts of Guns Out, which is a TV show that is sponsored by Gun Owners of America.
Guns Out is aimed at changing the false narratives about gun owners and expanding the 2A community. And they are getting huge kudos from the gun owners nationwide.
Check out Guns Out's recent videos here.
But back to my YouTube appearance with Shermichael. He shared his frustration that many anti-gun politicians claim to care about the plight of African-Americans, but then they support gun control policies which actually disarm minorities and the most vulnerable.
This is what Shermichael had to say about gun control and racism:
The gun is the greatest equalizer of freedom for all men and women, and one way to restrict that freedom is to limit gun rights — something African Americans are all too familiar with. 

The gun control laws being proposed by anti-gun Democrats — such as Red Flags — disproportionately impact Black Americans. The history of guns laws in the United States, and their discriminatory impact on Black Americans, cannot and must not be ignored. Knowing that someone can easily make a false accusation that leads to the confiscation of a person's firearm(s) is unimaginable. The consequences are grave, and that's why it's crucial that Red Flag gun confiscation orders are defeated.
This is a message that every U.S. Senator needs to hear – and especially those Senators who, as Shermichael suggests, claim to care about the plight of the minority community.
When you click here to take action, you will ensure that your two Senators get Shermichael's message.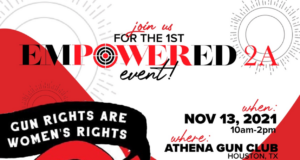 Calling All Female GOA Members:
Make Plans to Attend the Empowered Event on Nov. 13
Attention to all the female GOA members.
The first live, in-person Empowered 2A event is coming to Houston, Texas!
So set your calendars for Saturday, November 13, from 10 am – 2 pm.  (See the graphic below.)
In addition to meeting Antonia and her guest, Desstoni Johnson, there will be 2A activism training, handgun and rifle shooting and a full-auto fun shoot!
Desstoni is a firearms trainer who will be teaching firearm fundamentals, different methods of concealed carry for women, and firearm safety and storage.
Please register in advance for this meeting here!
After registering, you will receive a confirmation email containing information about joining the meeting.
Ladies, we hope to see you there!