Biden Nominates Gun Control Lobbyist
Written by Aidan Johnston
Published: 21 May 2021
On April 8th, President Biden announced the nomination of David Chipman to lead the "AFT"—an obvious blunder given that he was talking about the Bureau of Alcohol, Tobacco, Firearms, and Explosives (or ATF).
David Chipman poses a grave threat to the Second Amendment if given the reigns at ATF—an agency already predisposed to infringe on your right to keep and bear arms.
GOA needs you to contact your Senators—especially weak Republicans and so-called moderate Democrats—to make sure they know ALL the scandals surrounding this unconscionable nominee.
The Senate is expected to start hearings on the Chipman nomination as early as Wednesday, May 26.
So read up, get the facts, and call your Senate office to give them the full scoop!
The Registered Gun Control Lobbyist
David Chipman began his career regulating gun rights with the ATF. He left ATF to lobby for Everytown for Gun Safety and later the Giffords Law Center. United States Senate Lobbying Disclosure Act (LDA) Reports indicate that David Chipman made hundreds of thousands of dollars a year from 2017 to 2020 lobbying against the constitutionally-protected right to keep and bear arms. He also made over a million dollars lobbying for gun control in just six months between 2012 and 2013.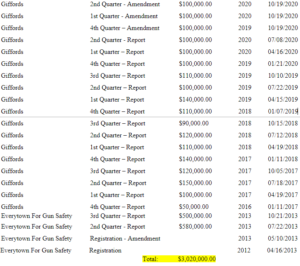 Over the years, lobbyist David Chipman worked against the constitutionally-protected rights of the people by supporting a host of gun control proposals and opposing bills to restore the Second Amendment from infringements. Please note that this list is by no means comprehensive. It is merely provided to provide insight into the mindset of anti-constitutional gun prohibitionist and gun control lobbyist.
David Chipman Opposed:

Concealed Carry Reciprocity Act
Silencers Help Us Save Hearing Act
Silencers Help Us Save Hearing Act
Assault Weapons Ban
Federal Firearms Licensee Protection Act
Veterans 2nd Amendment Protection Act
David Chipman Supported:

Ghost Guns Are Guns Act
Assault Weapons Ban
Bipartisan Background Checks Act
Gun Manufacturers Accountability Act
Gun Violence Prevention Research Act
Stop Online Ammunition Sales Act
Handgun Licensing and Registration Act
Raise the Age Act
Gun Show Loophole Closing Act
Firearm Risk Protection Act
Undetectable Firearms Modernization Act
SECURE Firearm Storage Act
Armor-Piercing Bullets Act
Background Check Expansion Act
Extreme Risk Protection Order Act
Closing the Loophole on Interstate Firearm Sales Act
Disarm Hate Act
Federal Extreme Risk Protection Order Act
3D Printed Gun Safety Act
Resolution for Keeping Guns Out of Classrooms
High Speed Gunfire Prevention Act
Bumpstocks and Acceleration Devices Act
The Spiteful Gun Prohibitionist
As noted earlier, Chipman began his career by spending 25 years enforcing gun control at the ATF.
David Chipman has unapologetically made false claims about the Waco Siege, claiming incorrectly that "cult members," a derogatory term for the religious sect Branch-Davidians, "used 2 .50 caliber Barretts to shoot down two Texas Air National Guard helicopters"—which verifiably did not happen.
Special Agent in Charge Chipman later left his career in law enforcement to make millions of dollars lobbying against the constitutional rights of the American people. At Everytown for Gun Safety and Giffords Law Center, he lobbied in favor of radical anti-gun legislation that would infringe upon the free exercise of the Second Amendment as we know it.
In particular, Chipman lobbied against the Concealed Carry Reciprocity Act despite being a gun owner and a self-professed concealed carrier.
Chipman also advocates for "arrest[ing prospective gun purchasers in gun stores] before committing crimes rather than responding after the fact" following a "failed background check." For reference, according to an Obama Department of Justice report from 2011, the background check "false positive" denial rate is roughly 95 percent.
As Senior Policy Advisor for the anti-constitutional rights activist group Giffords Law Center, Chipman wrote an article entitled Legal and Lethal: 9 Products That Could Be the Next Bump Stock. The document purports to show how the ATF could arbitrarily ban certain shotguns, pistols, ammunition, and even magazines by regulating them under the National Firearms Act without an act of Congress.
However, the 6th Circuit court of appeals 3 judge panel ruled that "a bump stock cannot be classified as a machine gun" in Gun Owners of America v. Garland ordering a lower court to provide a preliminary injunction against the ATF's implementation of the bump stock ban.
Clearly, a bump stock is not a machine gun and neither is a detachable magazine that can hold over 10 rounds. In fact, any attempted regulation based on the bump stock ban would be just as illegal and just as much an abuse of power.
Given the 6th Circuit's ruling on the ATF's overreach with the bump stock ban, does David Chipman still believe the ATF should mirror its actions on bump stocks to arbitrarily and illegally ban more firearms, firearm accessories, and ammunition?
During a period of dramatically increased rioting and calls to defund the police, David Chipman also publicly mocked Americans for choosing to buy firearms for the first time, saying that first-time gun owners were "more like Tiger King," telling them to "only bring [their guns] out if the zombies start to appear."
For all of the above reasons and more, President Biden's ATF Director Nominee David Chipman is unfit to hold public office.
So please, contact your Senator and let them know that Gun Owners of America will score all votes in favor of David Chipman as anti-gun votes.
Next 

Em

Powered

2A Meeting is this Monday!
Attention to all the female GOA members.
Here's your chance to finally ask an expert on all things related to firearms—that is, what is a good first gun to get, which caliber of firearm should I start with, etc!
May's Empowered 2A E.T.A. Talks event is with Sig Sauer's very own director of training, Hana Bilodeau. She will be taking questions the whole hour. So be sure to come with questions about firearm training, self-defense, and gun ownership.
Register below to get your link.
You are invited to a Zoom meeting.
When: May 24, 2021 07:00 PM Eastern Time (US and Canada)
Register in advance for this meeting: 
https://zoom.us/meeting/register/tJYode6qrz0vHt3f0S5qdyyV0xCTlRStfhIQ
After registering, you will receive a confirmation email containing information about joining the meeting.
Featured GOA News & Updates