Machete-Wielding Woman No Match For Armed Neighbor
Written by John Falkenberg, Concealed Nation
Published: 01 September 2017
Machete-Wielding Woman No Match For Armed Neighbor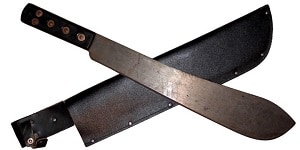 INDEPENDENCE, VA — When a woman decided that it was time to attack her neighbors with not one, but two machetes, she got a free helicopter ride, south, to the hospital.
WSLS reports that a woman took to swinging machetes at her neighbors, and, understandably, was shot for her trouble.
She did she expect?
According to WSLS:
Grayson County deputies responded to a shooting Friday at 11:09 a.m. that occurred on Fulton Road near Independence.
Deputies at the scene found Kathy Hines, who lives on the road, lying in her neighbor's driveway with a gunshot wound to the shoulder. She was flown to Wake Forest Baptist Medical Center in Winston Salem, North Carolina, where she was treated for non-life-threatening injuries.
The homeowners told authorities they saw Hines damaging their mailbox and a sign at the end of their driveway with two machetes.
Click here to see more Self-Defense articles like this one.
She then approached one of them at the road, swinging the machetes, according to the Sheriff's Office.
Hines then proceeded to their home, where she approached the second homeowner with the machetes.That homeowner was armed with a handgun, and gave commands for Hines to stop, according to the Sheriff's Office.
As Hines continued toward the homeowner, she was shot in the shoulder. Hines faces a charge of felony attempted malicious wounding and three misdemeanors for assault, destruction of property and trespassing.