GOA Endorses Jeff Landry for Louisiana Governor!
Written by Joshua Barnhill
Published: 13 October 2023
Vote for Liberty!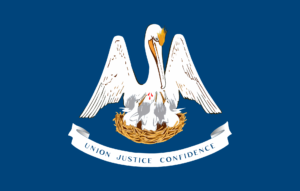 Jeff Landry is the Only No Compromise Candidate for Louisiana Governor!
GOA is pleased to endorse Jeff Landry for Louisiana Governor.
As a true sentinel of liberty, Attorney General Landry has long understood the intricate bonds between our cherished God-given rights. Indeed, Landry's documented history of steadfastly laboring in defense of the First Principles that form the pillars of our constitutional republic are firmly demonstrated.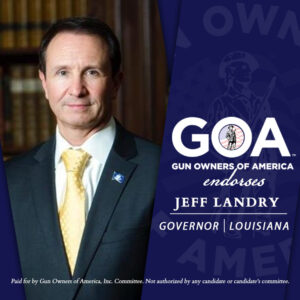 A native of St. Martinville, Landry was brought up to understand the notion that America was founded upon a tradition of hard work and that citizens have a fundamental duty to do their part to serve their communities. In fidelity to that time honored legacy, straight out of high school Landry went to work in sugar cane fields and joined the Louisiana National Guard where he deployed in support of Operation Desert Storm.
Eventually, Landry attended USL where he earned a degree in environmental resources and rounded out his education with a law degree from Loyola. Ever seeking to pull himself by his bootstraps and filled with the entrepreneurial spirit, he started a company related to the oil and gas industry.
It was during these trials that Landry began to understand the burden of our bloated and unrestrained government. No longer able to tolerate these injustices and unconstitutional overreaches, he began to seek public office to do his part to restore our government to its proper limitations.
As the Founders of the Great Nation envisioned, Landry sought to adhere to his duty as a citizen and uphold his oath to defend our Republic by serving in the U.S. Congress where he received the highest rating awarded by the American Conservative Union for his distinguished voting record.
Building upon that principled record, Jeff Landry served the citizens of Louisiana as Attorney General where he demonstrated his grasp of our Founding Principles by taking on blatant overreach by the federal government in support of the States Rights as enumerated by the Tenth Amendment.
It is evident that Landry understands the very real and complex threats facing the citizens of Louisiana. That is why he is seeking to serve the Great State of Louisiana as Governor.
Jeff Landry boldly stands in the breach to ensure that future generations of Louisianians continue to enjoy the blessing of liberty handed down to us by our forebears!
It is essential for gun owners to know that Landry is an ardent supporter of your Second Amendment rights. Naturally, he survived the crucible of GOA's rigorous endorsement process that re-enforces our No Compromise mission statement and scored 100% on his Candidate Survey.
Here is what Landry has to say, in his own words, about your Second Amendment rights:
"I support further strengthening the right of our citizens, their ability to exercise the Second Amendment of the constitution, and I will be focused on any way that we can strengthen that at the state level."
A strong declaration from a promising Statesman, who is endeavoring to maintain just government!
That's why GOA is proud to endorse Jeff Landry as the Only No Compromise candidate for Louisiana Governor. So, be sure to vote for Landry on October 14th!
A vote for Jeff Landry is a vote against arbitrary government & one for liberty!
Joshua Barnhill,
State Legislative Counsel & Louisiana Deputy Director
P.S. Please distribute this endorsement to your pro-Second Amendment family and friends and urge them to Vote for Jeff Landry!
Featured GOA News & Updates