House Passes Interstate Concealed-Carry Gun Bill
Written by Alicia Powe, WND
Published: 06 December 2017
House Passes Interstate Concealed-Carry Gun Bill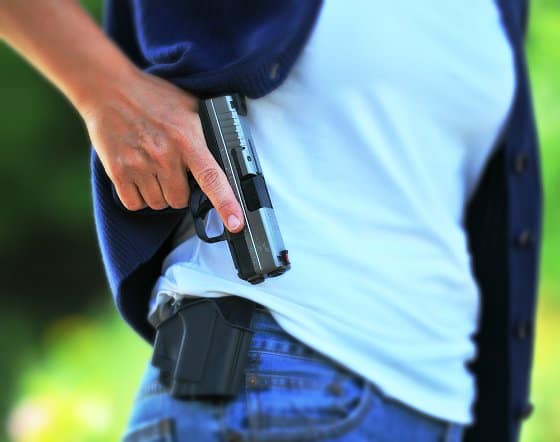 A bill to allow gun owners with concealed carry permits in one state to legally carry their weapons in any other state overwhelmingly passed the U.S. House of Representatives Wednesday, by a vote of 231-198 in the GOP-controlled chamber, including six Democrats who voted in support.
While the "Concealed Carry Reciprocity Act" alleviates stringent interstate gun laws, the legislation was conjoined with the Fix NICS Act, a bill introduced by a bipartisan group of senators in November, and designed to make the reporting requirements for the National Instant Background Check System (NCIS) more stringent.
Fix NICS penalizes federal agencies who fail to report criminal records and domestic violence records to the FBI. It also incentivizes states to regularly and accurately report criminal records to the bureau by allocating federal grants to states that comply.
The bill's sponsors include John Cornyn, R-Texas, Chris Murphy, D-Conn., Tim Scott, R-S.C., and Richard Blumenthal, D-Conn., along with senators Orrin Hatch, R-Utah, Dianne Feinstein, D-Calif., Dean Heller, R-Nev., and Jeanne Shaheen, D-N.H.
Gun owners and gun-control advocates alike support the background check amendment. The NRA touted the legislation, arguing that thorough and comprehensive background checks are a top priority of the organization.
However, Gun Owners of America Executive Director Erich Pratt warns Fix NICS is a "bad, raw deal for America" if it gets enacted into law, despite the conjoined reconciliation legislation.
"We don't think law-abiding people should prove their innocence to the government to exercise any of their constitutional rights," he told WND. "It's obviously, for us, a mixed bag. We support very strongly concealed carry reciprocity. That has been our big legislative priority, we've been pushing that for years. But we strongly oppose the gun control portion of it. We don't want that to pass into law and we are lobbying strongly against that."
He added: "It's so ripe for abuse. We have seen 257,000 military veterans who never committed a crime were prevented from purchasing."
Under Fix NICS, Americans would be denied the right to carry if it was found they had the same name as someone with a criminal record, or were criminalized for late-paid traffic tickets, Pratt explained.
"Practically speaking, most of the people who are denied concealed carry permits are people that shouldn't be denied. Ninety-five percent of the initial denials are false positive – the biggest reason is, people with the same name, just as we've seen on no-fly-lists," he said. "It happens to people who have unpaid traffic tickets, people who have had shouting matches in their homes, even when there's been no actual violence – people who have been through divorce, where there's been no actual violence. For all of these reason, we oppose the Fix NICS."
Featured GOA News & Updates