Gun rights advocates call on Pa. Senate to act on bills to advance Second Amendment rights
Written by Jan Murphy, pennlive.com
Published: 20 September 2021
Gun rights advocates have their aim focused on the Senate to advance legislation that would free up government restrictions on their right to carry a firearm.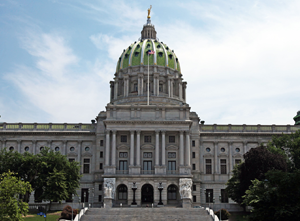 About 50 members of Gun Owners of America gathered on the steps of the state Capitol on Monday for a lobby day to pressure senators to pass three separate bills that are awaiting action in that chamber.
Dr. Val Finnell, the organization's Pennsylvania director, said despite knowing the bills would likely draw a veto from Democratic Gov. Tom Wolf, the push for a vote in the Senate on the three pro-gun bills is necessary to see where each senator stands on these gun rights issues.
"We want to get a recorded vote," Finnell said. "We want to put everyone on record on where they stand."
A pro-gun bill that has advanced the farthest in the Senate is Senate Bill 565, which would eliminate the state's longstanding requirement of the need to obtain a separate permit to carry a concealed firearm…
Read more at pennlive.com