GOA Applauds House Vote to Block Pistol Brace Rule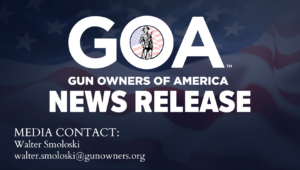 FOR IMMEDIATE RELEASE
Washington, D.C. – Today, the House of Representatives, in a bipartisan fashion, passed a resolution of disapproval under the Congressional Review Act to block the Biden Pistol Brace Rule. The final vote was 219-210, with two Democrats joining Republicans in the effort.
This rule, which took effect June 1st, outlawed the possession of unregistered but previously lawfully owned pistol braced firearms. Those found in possession of an unregistered braced weapon are now subject to felony charges carrying a maximum of ten years in prison—unless covered by one of five federal court injunctions. Researchers estimate up to 40,000,000 braces are currently in circulation.
Aidan Johnston, GOA's Director of Federal Affairs, issued the following statement:  
"We applaud the House for doing their part to block this rule and to send a message to the Administration and Courts that the ATF went well beyond its statutory authority with this rule. Many of these representatives deserve praise, but especially Congressman Clyde for championing the issue, and the House Democrats who joined their Republican colleagues in voting to block this rogue administration from making their constituents felons. Now we turn our attention to the Senate, where a discharge petition has already been filed and this resolution can be fast-tracked to the floor without the ability for anti-gunners to filibuster. We urge Senate Democrats to join Republicans in blocking this rule, and we will do everything in our power to ensure this resolution passes as soon as possible." 
GOA spokesmen are available for interviews. Gun Owners of America is a nonprofit grassroots lobbying organization dedicated to protecting the right to keep and bear arms without compromise. GOA represents over two million members and activists. For more information, visit GOA's Press Center.
Featured GOA News & Updates