GOA and GOF Sue New York Over New Concealed Carry Restrictions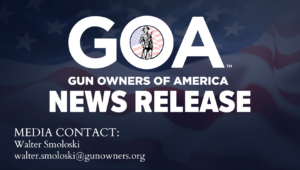 FOR IMMEDIATE RELEASE
Washington, D.C. – Yesterday, Gun Owners of America (GOA) and the Gun Owners Foundation (GOF) filed a federal lawsuit in the Northern District of New York over the recently enacted Concealed Carry Improvement Act.  The lawsuit was filed on behalf of a GOA member from Schenectady County.
Among other alarming provisions flouting recent Supreme Court precedent, this law will require concealed carry permit applicants to:
Display "good moral character"
Disclose their social media accounts for review
Have in person interviews with law enforcement
Provide four "character references"
Undergo 18 hours of combined training, an tremendous increase from the existing 4 hour requirement
Frustratingly, and despite the clear edict from the U.S. Supreme Court last month, it appears that anti-gunners in Albany have no intention of adhering to the rules and will continue to illegally restrict the rights of law-abiding Americans.
Erich Pratt, GOA's Senior Vice President, issued the following statement: 
"Instead of acknowledging the clear line in the sand drawn by the U.S. Supreme Court, Governor Hochul and the radical anti-gunners in Albany are doubling down on nearly every front to restrict the rights of their citizens to carry arms for self-defense.  Especially when crime is on the rise in places like New York City, GOA stands ready to fight for Americans' right to defend themselves in public when danger rises." 
Sam Paredes, on behalf of the Board of Directors for the Gun Owners Foundation, added: 
"Given the rampant anti-Second Amendment sentiment in New York, we were not surprised that new attempts to tip-toe around the clear SCOTUS precedent would come, and GOF was well prepared to step in to defend the rights of New Yorkers.  We are confident that we will fully defeat this comprehensive gun restriction package in Court." 
GOA spokesmen are available for interviews.  Gun Owners of America is a nonprofit grassroots lobbying organization dedicated to protecting the right to keep and bear arms without compromise. GOA represents over two million members and activists. For more information, visit GOA's Press Center.