Gun Owners of America is Proud to Endorse Anthony Sabatini for FL's 7th Congressional District
Written by Luis Valdes
Published: 30 June 2022
GUN OWNERS OF AMERICA IS PROUD TO ENDORSE ANTHONY SABATINI FOR CONGRESS!
Gun Owners of America (GOA) is proud to announce the endorsement of Anthony Sabatini for the 2022 Florida's 7th Congressional District primary election.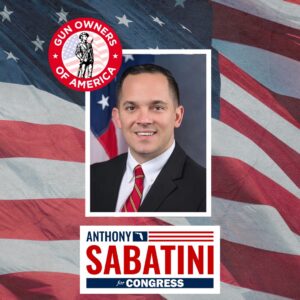 This is because of Anthony Sabatini's tireless hard work in the State Legislature.
Right now, especially in Florida, we have an issue with an entrenched political class that views the Second Amendment rights of Floridians as a privilege and not a right.
As GOA's Florida State Director, I have personally seen the hard work and dedication that Anthony Sabatini has done in trying to secure Floridians' Second Amendment rights as a State Representative.
I know that Sabatini is a fighter and will fight just as hard if not harder in Congress. There is no better choice for representation in Congress for the residents of 7th District than Anthony Sabatini.
Anthony Sabatini's record as a State Representative speaks for itself.
Introduced Constitutional Carry legislation three years in a row.
Introduced legislation to repeal Red Flags and the under 21 purchase ban.
Introduced legislation to repeal gun free zones in colleges and universities along with legislation to allow Floridians to truly exercise their Second Amendment rights at the State Capitol.
As GOA's Florida State Director, I know that Anthony Sabatini will not hold back and pull his punches in Washington DC. How do I know this? Because he didn't pull his punches in Tallahassee.
In my last conversation with Anthony Sabatini, he told me the following:
I stand by my oath to the Constitution. The Second Amendment is crucial and I will make sure that Floridians will be able to truly live in a free state and a free country.
The 2022 elections are crucial and Tim Macy, GOA's Chairman said it best:
The 2022 election cycle will be critical for gun owners and their rights. We hope our list of candidates, and the information we share, helps get more gun owners to the polls.
For more information about Gun Owners of America, please visit www.gunowners.org/.
Gun Owners of America is a grassroots nonprofit organization representing more than two-million-gun owners who are dedicated to protecting the right to keep and bear arms without compromise. For more information, visit GOA's Press Center. GOA spokespeople are available for interviews.