Gun Owners win key victories, including one before the Supreme Court
Written by Gun Owners
Published: 08 April 2014
— And gunnies say goodbye to a good friend

{flike}
"Otis McDonald was a gracious Christian gentleman who loved his family and wanted nothing more than to keep them safe," said GOA Executive Director Larry Pratt, who interviewed McDonald (for his NewsHour radio program) after the Supreme Court ruled in McDonald's favor and struck down Chicago's gun control law.
———————————————————–
Not a GOA member yet?  Click here to join Gun Owners of America!
———————————————————–
GOA won a huge victory before the Supreme Court in the McCutcheon case last week — a decision which will effectively allow GOA supporters to contribute greater total dollar amounts to help pro-gun candidates get elected.
One of the arguments that Gun Owners of America made in its amicus brief was that the Court should not trust Congress to regulate elections — a point that was echoed by Chief Justice John Roberts on page 3 of the McCutcheon decision:  "And those who govern should be the last people to help decide who should govern."
GOA is also thankful for Justice Clarence Thomas, whose opinion most closely resembled the arguments made in GOA's brief.
While Justice Thomas concurred in the majority decision, he also issued his own opinion, saying he would have gone further to overturn all contribution limits — something that Justice Thomas has urged for years, and something that GOA's brief urged, as well.
Gun owners can read GOA's amicus brief here; and the U.S. Supreme Court decision here.
GOA helping states block federal gun laws
Gun Owners of America recently thanked its Idaho members for their activism in helping their state become the latest to nullify President Obama's gun control agenda.
GOA issued several alerts into the state in favor of the nullification bill, and GOA activists rose to the occasion.
After Governor Butch Otter (R) signed the bill into law in late March, GOA issued a statement to the media congratulating residents of the Gem State.
"By signing this nullification bill into law," said GOA's Director of Communications Erich Pratt, "Idaho has joined an elite class of states that are telling the feds to 'get lost' — especially when it comes to unconstitutional gun control infringements."
The new law will bar Idaho officials from enforcing federal gun control laws, and the law will penalize officers who give such orders.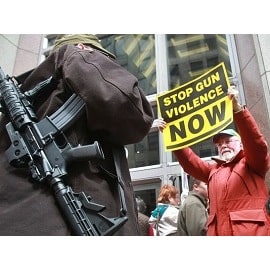 "Almost a dozen states have introduced similar bills this year," Pratt said.  "And Alaska and Kansas enacted their own nullification bills last year."
Gun owners smack down Bloomberg gun control in New Hampshire
It has been a long, hard battle in the Granite State, but the self-proclaimed nation's Mayor — the anti-gun Michael Bloomberg — has come up empty-handed.
The former New York City Mayor is spending millions of dollars all over the country in an effort to expand background checks to prevent more and more law-abiding citizens from owning guns.
In New Hampshire, Senate Bill 244 was introduced with this end in mind by an anti-gun Democrat.  As introduced, the bill would have imposed gun bans on large classes of Granite Staters.
This ban could have covered police and firemen with PTSD; or seniors with Alzheimer's, many of whom have very large and valuable gun collections which they would like to pass on to their children.
GOA worked with the New Hampshire Firearms Coalition in the state to get the onerous provisions stripped out of the bill.  After a long hard battle — where some weak-kneed gun groups in the state even supported gun control "lite" as an alternative — the state Senate did the right thing and stripped out every word of gun control.
The legislature is still in session, and thus, it "ain't over till the fat lady sings."  But this is a big victory for the Second Amendment in New Hampshire, and another huge defeat for the Bloomberg agenda nationwide.
Saying goodbye to Otis McDonald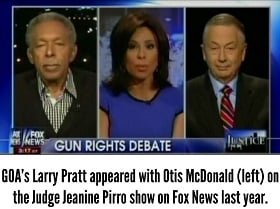 Finally, we report, with great sadness, that Otis McDonald — a recent icon in the gun movement — died last Friday, April 4.
Gun owners will remember him as the valiant resident of Chicago who brought down the city's handgun ban — a case which was finally decided in 2010 by the U.S. Supreme Court in the now famous McDonald v. Chicago.
GOA Executive Director interviewed him for his radio program and later appeared with him on the Judge Jeanine Pirro show on Fox News last year.
McDonald died last week at the age of 80 after a long illness.
"While Otis is no longer with us, his legacy will continue on for years," Pratt said.  "Otis McDonald will truly be missed."
Gun owners can read GOA's amicus brief in the McDonald decision here and the U.S. Supreme Court decision here.
———————————————————–
Not a GOA member yet?  Click here to join Gun Owners of America and help defend the Second Amendment!
———————————————————–