Republicans trying to steal defeat from the jaws of victory … again
Written by Gun Owners of America
Published: 28 November 2017
House Committee to Vote on Concealed Carry Reciprocity and Anti-gun "Fix NICS" Bill
Please click on the Take Action button to encourage your Representative and Senators to OPPOSE the anti-gun "Fix NICS" bill, but to SUPPORT the concealed carry reciprocity legislation.  If you have time, please call your Representative at 202-224-3121 — and urge him or her to support H.R. 38 and oppose H.R. 4434.
---
Not a GOA member yet?  You can join Gun Owners of America today for only $20 — and this will double your contribution because of our matching fund!
---
GOA Tells Congress to Pass Concealed Carry Reciprocity, Defeat Feinstein-Murphy-Cuellar Bill
Dear Friend: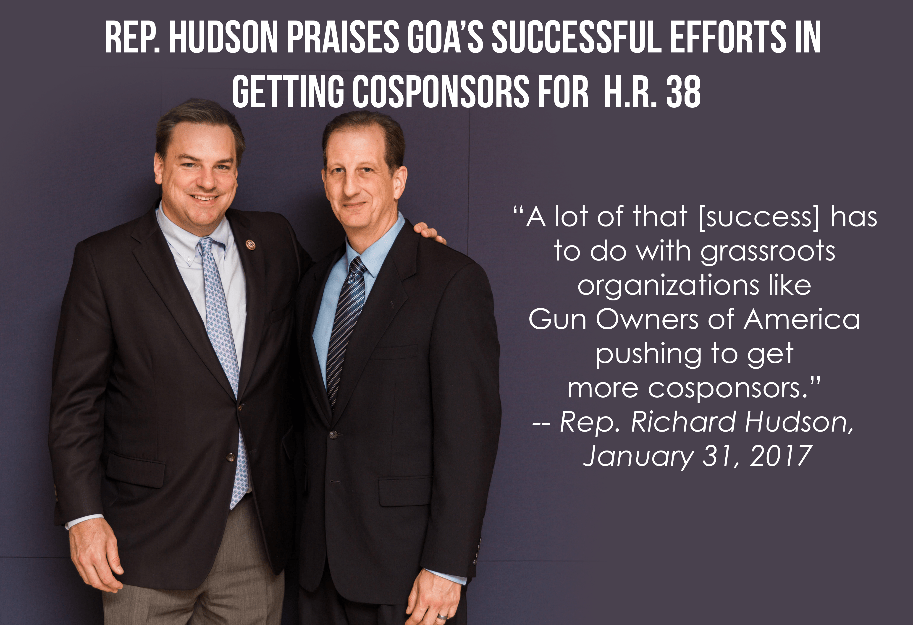 After a two-month effort by anti-gunners to manipulate tragedy in order to destroy the Second Amendment, there is really good news and some bad news.
But first, the really good news:  The concealed carry reciprocity bill introduced by Republican Rep. Richard Hudson is being marked up (aka, voted on) in the House Judiciary Committee on Wednesday.
Under the Hudson bill (H.R. 38), every state will recognize the constitutional right to concealed carry for the protection of yourself, your family and your friends.
But this is just the beginning.
Under the Hudson bill, every state would also recognize the concealed carry rights of residents who come from Constitutional Carry states.
Not only that, the Hudson bill would:
* Repeal federal gun-free zones such as the ones that have resulted in the slaughter of children at various schools around the country;
* Apply to magazines and ammunition, thereby thwarting efforts of states like Massachusetts and California to ban guns through a technicality; and,
* Allow guns on virtually all federal lands, to the same extent as our 2011 amendment authorized guns in parks, subject only to the laws of the state where the lands are located.
Gun Owners of America urges Congress to defeat the Feinstein-Murphy-Cuellar bill
Now, for the bad news.  The anti-gun "Fix NICS" bill is also being marked up on Wednesday in the Judiciary Committee.
Gun Owners of America has urged Republicans in both chambers to defeat the legislation, which in the Senate is being cosponsored by anti-gun Senators Dianne Feinstein (D-CA) and Chris Murphy (D-CT).

The House bill, H.R. 4434, is sponsored by anti-gun Rep. Henry Cuellar (D-TX) and Rep. John Culberson (R-TX).
The main focus of this legislation is to make sure that no "bad apples" slip through the cracks to purchase firearms.
Of course, the problem is that real criminals will steal their guns or use fake IDs or straw purchasers to get weapons — even while decent Americans (who should NOT be in NICS) keep getting denied.
The NICS Improvement Amendments Act of 2007 mandated that any American can be stripped of their Second Amendment rights without due process, under certain conditions.
That's why more than 257,000 military veterans have been added into the NICS system.  It's because they had a family member appointed to handle their financial affairs — and that has resulted in their being classified as "mental defectives."
Of course, most of these veterans were suffering with maladies such as PTSD that resulted from their combat experiences.
We believe this anti-gun legislation (H.R. 4434 and S. 2135) would mandate that the rolls of programs like Social Security (old age), Medicare, Medicaid, ObamaCare, S-CHIP, and perhaps even SSI disability be trolled for persons with the same conditions as those military veterans.  Not only that, the 50 states will probably have to turn over medical marijuana records.
And, although there is a "theoretical" right to get a hearing prior to losing your guns, GOA hears, almost daily, from law-abiding Americans who don't have the thousands of dollars necessary to mount such a challenge.
Are You a Fugitive From Justice?
Finally, thousands upon thousands of additional (innocent) Americans could be sent to NICS as part of the "fugitives from justice" category.
Sure, that category sounds ominous — until you consider that a "fugitive from justice" can simply be a person who doesn't pay a parking or speeding ticket incurred while on vacation.  When that person fails to pay his ticket or appear in court, a bench warrant is often issued for their arrest — and, presto, they have now become a "fugitive from justice."
So if that's you — and if they start culling these records by the hundreds of thousands and sending them to NICS — you can probably say goodbye to your gun rights.
Republican supporters of this legislation note that the bill contains language which purports to require the Attorney General to remove erroneously submitted names within 60 days.  Of course, the Brady Law itself ALREADY requires the prompt correction of erroneous records — but this provision has been deliberately ignored since 1994.
Given that there are no sanctions in the bill which can be applied against anyone in the Justice Department for non-compliance, we believe this supposed "protection" is not worth the paper it is written on.
One last thing. The committee version of the anti-gun "Fix NICS" bill — that will be marked up on Wednesday — will mandate a study on the use of bump stocks in crime.  To our knowledge, there is only one case of this, but no doubt, gun haters want this study to become a first step toward banning ANYTHING that increases the rate of fire of a weapon — including certain types of triggers, hammers or magazines.
Again, this bill is coming to a vote in the House Judiciary Committee tomorrow (Wednesday).
So please click here to tell your Representative that while you SUPPORT H.R. 38, you absolutely oppose the anti-gun Fix NICS Act (H.R. 4434).
Similar letters will also be sent to your two Senators.
Thank you for your help.
Sincerely,
Michael Hammond
Legislative Counsel
P.S.  Please urge your Representative and Senators to OPPOSE the anti-gun "Fix NICS" bill, but to SUPPORT the concealed carry reciprocity legislation.  And don't forget that you can join Gun Owners of America today for $20 — and this will double your contribution because of our matching fund!
Featured GOA News & Updates