Don't Let Gabby Giffords Kill Constitutional Carry
Written by Jordan Stein
Published: 06 June 2017
Take Action to Restore Concealed Carry Freedoms
 
Click on the Take Action button to urge your state representative to support Constitutional Carry!
---
---
The Vote on Constitutional Carry is Coming Soon
Dear Friend:
A bill allowing Constitutional Carry (HB 746) has already passed two committees and could come to a vote one the House floor as soon as Wednesday. 
But gun controller Gabby Giffords is predictably spreading misinformation about the bill — and she is pressuring legislators to oppose Constitutional Carry.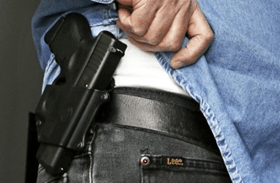 If the terror attack in London showed us anything, it's that people should be primarily responsible for protecting themselves.  
Constitutional Carry does just that, as it protects the right of all law-abiding people to defend themselves while they are away from home.  
And they will be able to do this without getting permission from a bureaucrat or being forced to pay a tax in order to exercise their Second Amendment rights.  
This would be great news for North Carolinians!  After all, permitless carry states are among the safest in the nation.
Open carry is already legal without a permit. So why must North Carolinians beg the government for permission to carry a firearm under a coat or in a pocket?
So, please take action on HB 746 in two easy steps:
Next, call your Representative — at their phone — and urge support for Constitutional Carry. Feel free to use the talking points outlined in the pre-written letter in your call.
This bill will allow greater freedoms for North Carolina residents.  There are other bills in the legislature that are even better, but they are not getting voted on by the House this week. 
So please do what you can to get as much support as possible.
Again, the vote could come very soon — and the gun controllers are fighting this tooth and nail — so it's vital that you email and call now. 
In Liberty,
Jordan Stein
Public Relations Coordinator 
Gun Owners of America
PS: I'm from North Carolina, so this is very personal to me. Please take action to bring Constitutional Carry to the Tar Heel state.
Featured GOA News & Updates