GOA attacks gun-free zones, Everytown fires back
Written by Jared Morgan
Published: 20 August 2016
GOA attacks gun-free zones, Everytown fires back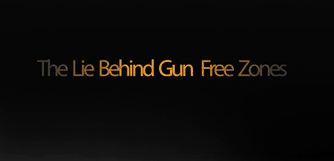 "We're actually blaming the wolves that love to prey on unprotected sheep but a wolf doesn't typically attack when there are a bunch of sheep dogs congregated together…" – GOA Executive Director Erich Pratt
---
Gun rights advocates and proponents of gun control clashed on Friday over whether so-called "gun-free zones" actually attract mass shooters.
Everytown for Gun Safety criticized a video released by Gun Owners of America which claimed more than 90 percent of public mass shooters choose places they know will be devoid of armed people.   
"There is no evidence that mass shooters specifically target gun-free zones," said Stacey Radnor, Everytown deputy communications director, in an email to Guns.com. "In fact, the vast majority of mass shootings take place in places where guns are allowed."
Using FBI data and media reports, Everytown conducted research on mass shootings between 2009 and 2015 and concluded that only 13 percent of the incidents occur in gun-free zones, suggesting that gunmen don't pick these areas because of their lack of guns.
GOA Executive Director Erich Pratt begged to differ, offering what he felt was sufficient evidence to the contrary.
"The Aurora theater shooter had initially wanted to target an airport, but decided against it because of the security there," Pratt said in an email. "In 2012, he instead attacked the only theater within 20 minutes of his residence that had an official policy against concealed carry. This was a theater that the gunman had previously scoped out and identified as a gun-free zone."
If the shooter did choose that theater because of its no-guns policy, he didn't detail it in the copious notes he took in preparation of the attack, as liberal magazine Mother Jones noted.
Could an armed moviegoer have stopped the shooter before he killed 12 and seriously injured 70 others? Perhaps.
Some have argued that in the chaos of the moment, good guys with guns do little to stop mass shootings. What about when they choose not to act, as was the case in Oregon a few years ago?
That state is one of several that allows guns on college campuses, one of which, Umpqua Community College, played host to a mass shooting in October 2015, when a gunman fatally shot a professor and eight students before killing himself.
"While the law prevents colleges and universities from prohibiting legal carry, college administration in Oregon simply circumvent the plain meaning of the law," Pratt said. "Hence, the Student Code of Conduct at Umpqua Community College says that the 'possession or use, without written authorization, of firearms' can be 'subject to disciplinary action.'"
The school's president, Rita Cavin, told CBS News a day after the shooting that the college has a policy of no guns and also didn't feel the need for armed security guards.   
"And according to Kevin Starrett of the Oregon Firearms Federation, it is common for faculty at Oregon colleges — when they find a student is armed — to 'trespass the student off campus and threaten him or her with expulsion or suspension,'" Pratt said. "The Verdict? Umpqua Community College was and is, by rule of the administration, a gun-free zone."
But what about Umpqua's good guy with a gun? John Parker Jr., a veteran, was carrying during the shooting, but by the time he had become aware of the incident, police were already on the scene and he didn't want to be mistaken for the bad guy.
Among the Oregon shooting is a handful of others, burned into the American mass shooting lexicon: Orlando, San Bernardino, Charleston, Santa Barbara, Newtown.
There's no doubt that guns play an important role in self-defense – the Supreme Court would not have solidified the right in its 2008 Heller decision otherwise – but should that right be unfettered and allowed in public or should it be well-regulated with gun-free zones? Each state has its own say.
In a time when police response times are lacking, gun rights advocates argue it's good guys with guns who can pick up the slack and prevent at least some loss of life or property.
"It's ironic that the (gun control people) will jump on this example — the veteran who did not use his gun (in Oregon) — but will completely ignore the many examples where law-abiding citizens used their guns to stop mass shooters, like at the Darby, PA hospital in 2014 or at the Philadelphia barber shop in 2015 or at the gas station in Louisiana this year," Pratt said.
What about the victims of mass shootings? Are they to blame for not taking up arms and protecting themselves from deranged gunmen? Everytown thinks the push against gun-free zones is a form of victim-blaming.
"It effectively suggests that innocent people living their daily lives – praying in houses of worship, studying at a college library – are to blame for their own deaths because they were not armed to the teeth in places that anyone should feel safe. It's this logic that NRA board member Charles Cotton used following the Charleston shooting, when he blamed a murdered pastor for being shot because he and the other victims weren't carrying guns," Radnor said.
GOA disagrees.
"We're actually blaming the wolves that love to prey on unprotected sheep," Pratt said. "But a wolf doesn't typically attack when there are a bunch of sheep dogs congregated together. Likewise, these despicable killers don't typically target places where their victims are armed (like police stations), they target places where their victims are disarmed and defenseless."
Featured GOA News & Updates