GOA is Taking the ATF to Court … Again
The ATF has Weaponized Its Zero Tolerance Policy for FFLs
If the ATF drives thousands of gun stores out of business all around the country, you won't have anywhere to purchase new firearms.
This is what ATF's "Zero Tolerance" program is all about – it's aimed at making it impossible for millions of gun owners to easily purchase guns.
And so once again, we're taking the ATF to court to stop an appalling act of tyranny.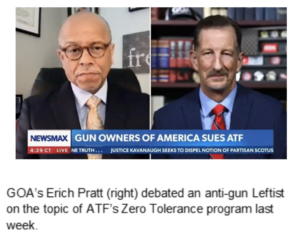 These power-hungry bureaucrats wielded the Biden Administration's "Zero Tolerance" policy for Federal Firearms Licensees (FFLs) as a weapon to retaliate against a gun store that joined us in previous litigation against the ATF.
The ATF's conduct in the case strongly suggests that the investigation and subsequent revocation of the stores FFLs was politically motivated retribution.
That's why Gun Owners Foundation and Gun Owners of America intervened on the store's behalf and filed a lawsuit challenging the ATF's Zero Tolerance FFL policy.
But this isn't just one store that GOA is defending. We are suing on behalf of thousands of gun stores around the country to combat this ATF abuse.
If these freedom-sucking leeches can get away with retaliating against pro-2A businesses like this – and drive them out of business – we can only imagine what they'll one day do to retaliate against everyday gun owners like YOU.
With the ATF going to extreme lengths to CRUSH any opposition to their anti-gun agenda, they're going to spare no expense to win this case.
As we prepare to incur tens of thousands of dollars in legal costs to take on the ATF and their swamp-funded lawyers in court yet again, we have no choice but to ask for your support.
Please make a tax-deductible contribution to Gun Owners Foundation's Legal Defense Fund to help us beat the freedom-crushing tyrants at the ATF in court.

In 2022, the Biden Administration subtly changed the definition of what constitutes a "willful" violation to allow the ATF to revoke a gun store's license after a single minor paperwork error.
You may remember that GOA leaked internal ATF documents earlier this year detailing how the agency deliberately obscured this rule change to increase the number of license revocations.
As soon as the rule change was made, the ATF declared war on gun owners by using the new Zero Tolerance policy to put gun dealers out of business over minor record-keeping errors.
The ATF is even revoking FFLs for the exact same kind of record-keeping mistakes that they frequently make themselves!
Why should law-abiding FFLs be held to a higher standard than the ATF bureaucrats?
Unsurprisingly, this policy caused FFL revocations to skyrocket to a 16-year high.
As if that wasn't bad enough, the ATF has now gone even further by weaponizing this policy to shutter a gun store that had previously sued the agency.
Last summer, Morehouse Enterprises (which does business as Bridge City Ordnance) joined us in a separate lawsuit against the ATF challenging their Frame, Receiver and Registration Rule.
Just a month after they joined us in that suit, the ATF initiated their first-ever inspection of Morehouse.
Out of thousands of transactions, they discovered a few minor errors:
They forgot to write down that they returned a repaired gun to a customer.
They accidently left off a digit from a background check number.
They mistakenly wrote a social security number where the background check number should have gone.
They sold a handgun to someone from Georgia in their North Dakota store and used the customer's Georgia concealed carry license instead of running a background check (while technically a violation, this shouldn't matter since the license is more than enough proof that the buyer is able to own a gun).
None of these errors were deliberate. None of them resulted in someone acquiring a firearm who was not legally permitted to do so or posed any sort of threat to public safety.
It's pretty clear that the ATF was grasping at straws.
Yet the ATF informed Morehouse that, as a result of Biden's Zero Tolerance policy, they would have their FFLs revoked.
Where there's smoke, there's fire: This was politically-motivated retaliation by the ATF, and we cannot allow them to get away with it.

This is only the latest example of the Biden Administration weaponizing federal agencies against their political enemies.
And the double standard is appalling…
While Hunter Biden gets a slap on the wrist for LYING on a federal background check to purchase a gun, the Biden Administration throws the book at gun stores for clerical errors.
This politically motivated targeting of gun dealers is yet another compelling piece of evidence to support our demand that Congress defund the ATF.
But we can't simply sit around waiting for Congress to act.
Which is why Gun Owners Foundation is taking the fight to the ATF in court to STOP this draconian Zero Tolerance FFL policy that is ripe for further abuse.
The ATF may seem like a powerful force.
But they pale in comparison to the power of millions of grassroots gun owners like YOU who will fight alongside us to defend the Second Amendment.
So please, make a tax-deductible contribution to Gun Owners Foundation's Legal Defense Fund to help us beat the freedom-crushing tyrants at the ATF in court.
Featured GOA News & Updates