Action Needed to Stop Slimy Gun Grabs in Connecticut
Written by admin
Published: 14 April 2016
Dirty Bills to Confiscate Guns Moving in the State House


Click on the TAKE ACTION button and use the state's address locator to urge your state representative to vote NO on HB 5408, HB 5054 and HB 5623 — three bills that will nullify Second Amendment rights.
---
Not a GOA member yet?  You can join Gun Owners of America today for only $20!
---
House Bills Would Confiscate Guns from Citizens without Cause or Trial
Take action NOW to defend your Second Amendment rights against three slimy gun grabs.
The Connecticut State House is considering a trio of dirty bills that harass or confiscate guns from citizens without cause or trial.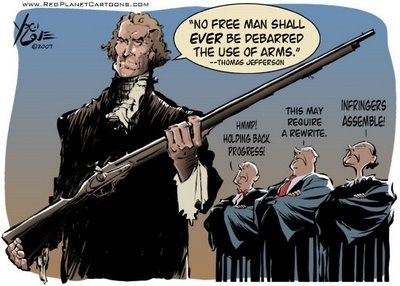 House Bill 5408 requires "the holder of a permit for the carrying of any pistol or revolver to present such permit upon request of a law enforcement officer."
The only purpose of this bill is to harass law-abiding gun owners and create a legal trap to arrest peaceful citizens.  If you forget your permission slip at home, the police have grounds to arrest you — despite the fact you pose no threat to anyone. 
And the bill is needless.  The list of permitted citizens is computerized and available to any police officer on the street with the click of a computer key or radio call button.
Under House Bills 5054 and 5623, anyone who is made the target of a Temporary Restraining Order (TRO) has only 24 hours to hand in their firearms over to the police or a licensed dealer.
When a TRO is sought, no case is presented to a jury, and the accused has no chance to defend himself or herself in court.
They are often sought in divorce cases without grounds simply to smear the other party in court.
And now it's cause for government officials to strip citizens of constitutionally-protected rights without trial.
It's just the latest tactic used by gun grabbers to strip Americans of constitutional rights without due process of law.
Use the state's address locator to contact your state representative.  Urge him or her to vote NO on HB 5408, HB 5054 and HB 5623.
Featured GOA News & Updates