GOA's Bump Stock Case to Get a Hearing Soon
Written by Erich Pratt
Published: 21 February 2019
Trump Should Extend the Turn-in Period to Prevent Thousands of Gun Owners from Becoming Felons
Take Action below to EMAIL and/or TWEET President Trump. Urge him to "restart the clock" on the bump stock turn-in period as a matter of fairness, given the way the prolonged Government Shutdown delayed the challenges in court.
Bump Stock Case Will Determine the Future of AR-15s
Time is running out.
On March 26, if the courts have failed to act, hundreds of thousands of gun owners will have to dispose of their bump stocks or else risk becoming felons.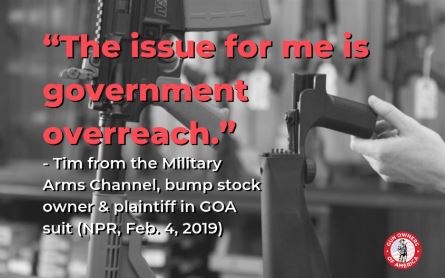 And in delaying the destruction of their bump stocks until the courts rule, decent Americans could face a $250,000 fine and ten years in federal prison.
But Gun Owners of America has a strategy to prevent this from happening.
As you know, GOA is challenging these ATF regulations in federal court in Western Michigan, which is in the Sixth Circuit.
Please note: This case is already becoming very expensive, and you can help contribute to it by going to our foundation page here.
There is a lot at stake, including the question of whether these regulations will grease the skids for AR-15s to be classified as machine guns because they can (supposedly) be "easily converted."
We have a strong case with high profile plaintiffs — such as Tim from the Military Arms Channel, GOA's own Rachel Malone, and the Virginia Citizens Defense League.
And we have very credible witnesses, such as a former high-ranking ATF official who can document why the agency approved bump stocks, even under the Obama administration!
We also have several gun rights groups that are helping to financially support our case — such as BamaCarry, New Hampshire Firearms Coalition, Oregon Firearms Federation, Tennessee Firearms Association, and Wisconsin Gun Owners.
GOA urges the courts to put a "stay" on the enforcement of the ATF ban
GOA has filed a motion for preliminary injunction, which would hit the "pause button" on enforcing the bump stock ban until the legality of the regulations can be fully litigated.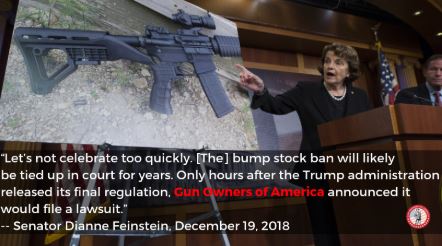 Originally, our hearing was scheduled for March 11, which would leave very little time to get a decision prior to the end of the turn-in period deadline (on March 26).
So our lawyers asked that the hearing be moved up to protect gun owners who are waiting to see if they must immediately dispose of their bump stocks.
The judge agreed with our concerns and moved up the hearing to March 6.  
This was not as good as we would have liked — but it was progress.
Our lawsuit has the potential to halt the enforcement of this ban for quite some time.  
Already, anti-gun Senator Dianne Feinstein lamented that GOA's lawsuit America would keep the bump stock ban "tied up in court for years."
But alas, a victory down the road would be meaningless if the 90-day turn-in period had come and gone without a court issuing a stay on the ban's enforcement.
GOA urges DOJ to "restart the clock" on the turn-in period
On Wednesday, I sent a letter to the newly-confirmed attorney general, urging him to do just that — to "restart the clock" on the 90-day turn in period.
I made the case that while we might eventually win in the courts, hundreds of thousands of gun owners will be risking felony prosecution just while waiting for final court review.
And while that's a huge problem for gun owners, there's a separate, simmering problem for the Department of Justice (DOJ).
This question concerns whether the initial regulations were signed illegally.  Our own sources inside the DOJ have told us that there has been a raging debate on this point within the department.
Here's their dilemma:  The previous acting attorney general, Matthew Whitaker, signed the bump stock regulations.  But did he have the authority to do this?
This is the question that one judge is asking the plaintiffs in one of the other bump stock cases. (There are currently four cases pending in three circuit courts.)
Our sources tell us that Attorney General William Barr, who was recently confirmed by the Senate, may reissue the regulations under his name.  If that restarts the clock, fine.
But we have told him we do not believe he can just ratify the regulations if neither he nor Acting Attorney General Whitaker had the authority to issue them in the first place.
That is the essence of what my letter said to Barr this week.
Unfortunately, the current attorney general does not have a very good record on gun rights. And that's why we need to appeal to President Trump to order Attorney General Barr to restart the clock.
GOA plans to appeal all the way to the Supreme Court
If the district judge does not enjoin the regulations in time to protect gun owners, we will be prepared to go to the Sixth Circuit Court of Appeals for an emergency stay. 
If the Circuit Court of Appeals does not enjoin the regulations in time, we will ask the Supreme Court to intervene.
The good news is that in our recent communication with the district judge, it appears that our judge realizes the time urgency of this case.
As I noted above, he even moved the date of our hearing up a week, given our expressed concern that we should have enough time to appeal his decision if it goes against us. And remember that there are three other bump stock cases that are taking place in two other circuit courts.  
Hence it is very likely that, among all the current cases which are challenging the ATF's bump stock regs, we will get a decision before the March 26 deadline.
All of this to say, there's a lot that should be occurring within the next month and a half.  And we will continue alerting you to what's happening on this issue.
But for now, please urge President Trump to order the Attorney General to "restart the clock" on the 90-day turn-in period for bump stocks.
Tell him that he should not be sending hundreds of thousands of gun owners to jail — especially considering that many of them are supporters who voted for him.
And if you haven't done so already, you can contribute to the GOA bump stock case by going to our foundation page here.
And you can read our briefs here and here.
So please forward this alert to your pro-gun friends and family. Encourage them to contact President Trump, urging him to extend the turn-in period for bump stocks.  
Thanks so much for your help.
Featured GOA News & Updates