Are Republicans Betraying Roy Moore?
Written by Tim Macy
Published: 26 October 2017
GOA Rallying to Help Send Roy Moore to the U.S. Senate
Thank you for helping Gun Owners of America send good, pro-gun Americans to Congress.  Please consider chipping in $20, $50, or $100 to help elect no-compromise, gun rights candidates.
GOA Rallying to Help Send Roy Moore to the U.S. Senate
Dear friend,
I know that you are going to be as outraged as I am.
Senate Majority Leader Mitch McConnell has all but abandoned Judge Roy Moore, who is the pro-gun candidate to replace Jeff Sessions in the U.S. Senate.
When Judge Moore was running to win the Republican nomination for the U.S. Senate seat in September, McConnell spent $30 million in a failed attempt to defeat him.
That's right. Senator Mitch McConnell spent millions of hard-earned dollars that Republicans contributed on a losing candidate, Luther Strange.
But now that Moore has won the Republican nomination and he's facing an anti-gun liberal Democrat for the general election, what is McConnell doing?
Nothing.
As stated by Business Insider, "the McConnell-linked Senate Leadership Fund will not spend any more money in the Alabama special election."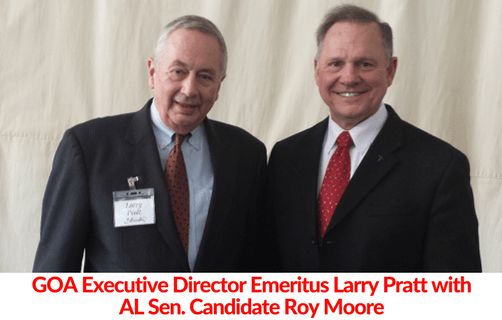 I'm sure that you will agree with me that this is outrageous!
Judge Moore has been on the front lines, fighting our enemies, for decades.
And he has long been an articulate — and uncompromising — champion for gun rights.
Mitch McConnell: Throwing Moore "Under the Bus"?
So why is McConnell's Senate Leadership Fund ignoring Judge Moore?
I know … I know.  To ask the question is to answer it.
Senate leaders like Mitch McConnell don't like independent thinkers in the Senate.
They like "yes men" — and Judge Roy Moore is certainly NOT that.
If he's committed to anything, it's to supporting and defending the U.S. Constitution of the United States.
We need no-compromise defenders of the Second Amendment like Roy Moore in the U.S. Senate.
Consider how several Republicans — including House Speaker Paul Ryan — were calling for gun control in the aftermath of the Las Vegas shooting.
It was disgusting.
But you won't see Senator Roy Moore buckling under the media pressure to call for gun control.
That's why we need Roy Moore in the U.S. Senate!
With your support, GOA is able to identify the strongest pro-gun candidates for office in Alabama and across the country to ensure that your Second Amendment liberties are not infringed upon.
So please take a moment to send a small contribution to Gun Owners of America by clicking here.
Your support is what makes GOA so effective in Washington, D.C., in Alabama, and across the country.
Sincerely,
Tim Macy
Chairman
PS: GOA is rallying support to help elect a pro-gun House and Senate.  Consider chipping in $20, $50, or $100 to help elect no-compromise gun rights candidates.
Paid for by Gun Owners of America.
Not authorized by any candidate or candidate's committee.
Featured GOA News & Updates