Join GOA's Erich Pratt at the Richmond Rally!
Written by Jordan Stein
Published: 02 July 2019
Contact the House and Senate Leadership One More Time in Opposition to the Governor's Gun Control!
Urge Senate Majority Leader Tommy Norment and House Speaker Kirk Cox to oppose Governor "Blackface" Northam's gun control agenda.
Tell Delegates and Senators Not to "Cave"
In our last couple of alerts, we told you about Governor Ralph "Blackface" Northam and how he is using the tragedy in Virginia Beach to call for New York style gun control in the Commonwealth.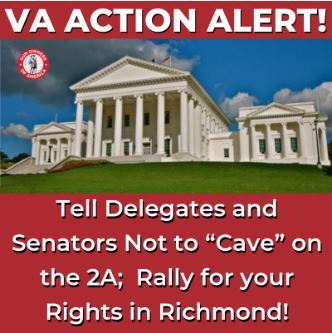 The Governor's requested legislative session is set to begin on July 9. That is next Tuesday! So we need to keep the heat on House and Senate leadership.  
To help deliver a pro-gun message, our friends at the Virginia Citizens Defense League (VCDL) have organized a rally and lobby day for July 9 at the General Assembly Building in Richmond.
They invited GOA's Senior Vice President Erich Pratt to speak, and I intend to be there with him.  I hope to see you there as well. All the details are provided below.
While all Senators and Delegates need to hear from gun owners that more gun control is not the answer, we really need to put the heat on the leadership.
We need to let them know that what Virginia really needs is a Constitutional Carry law, which will enable every citizen to carry a concealed, self-defense gun without a government issued permission slip.
Not only that, we need to bolster the state's preemption law. Penalties must be added so that local officials who violate state's preemption law will be punished.  
This is not a new or novel idea. In 2011, when Florida added penalties to its preemption law, most local gun bans went away.  
Virginia needs to do the same — and fast. That way it will force localities like Virginia Beach will repeal their draconian gun bans.
Make no mistake, the City of Virginia Beach enabled the horrible mass shooting that occurred last month. It was their ban on city employees carrying firearms which prevented Kate Nixon from protecting herself and others from the actions of a murderer.
Instead of more gun control, we should learn from this and enact laws which will truly make Virginians safer.
Please take action and join us in Richmond!
Our friends at VCDL have organized a rally and lobby day for 9AM, July 9 at the General Assembly Building. 
GOA's Erich Pratt will be there to speak at the rally and to help lobby Senators and Delegates. We must hold the line on any new gun controls in Virginia.  
Can we count on you to attend and bring a friend?  All the information about the rally, where to go, what do and who will be speaking can be found by clicking here.
Finally, please contact Senate Majority Leader Tommy Norment and Speaker Cox and urge them to reject gun control (in any form) and instead add penalties to Virginia Code Section 15.2-915 (state preemption) and then, at the same time, make Virginia a Constitutional Carry state. 
And don't forget to remind Majority Leader Norment and Speaker Cox that running on gun control (or gun control lite) is a loser political issue.
Featured GOA News & Updates