Iowans could be the difference maker in stopping federal red flags
Written by Michael Hammond
Published: 02 July 2019
Tell Ernst to reject ALL gun control in VAWA
Urge Sen. Joni Ernst to stop negotiating on gun control in VAWA!
Ernst Could Decide if Gun Confiscation is in VAWA; Please act immediately!
Sometimes, it seems as if the Senate Republicans don't give a hoot about gun owners.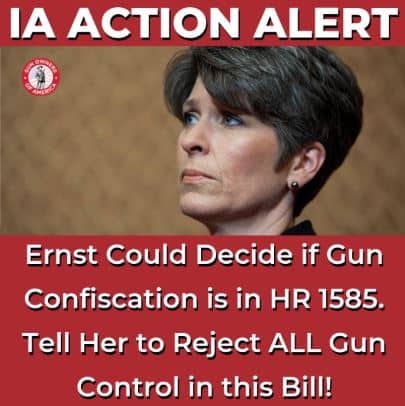 We know that radical Democrats on Capitol Hill hate gun owners. 
And here's a case in point: Nancy Pelosi and her gang of anti-gun misfits took H.R. 1585 — which is the reauthorization of the Violence against Women Act (VAWA) — and loaded it with gun control, gun control, and more gun control. 
This includes the red flag gun confiscation orders that we've been fighting across the country. 
Now, radically anti-gun California Senator Diane Feinstein is negotiating with Iowa Senator Joni Ernst over which gun control to drop out of the VAWA bill — and which gun control to leave in.
Just to be clear, the gun control in the VAWA bill which was sent over from the House is really nasty.
Under the bill, your third-grade sweetheart could make a telephone call to a judge and obtain a secret ("ex parte") order to confiscate your firearms.
Before you know it, the SWAT Team will arrive at your doorstep in the middle of the night and seize your firearms.
If you're like Gary Willis of Ferndale, Maryland, you will be shot to death during the gun confiscation raid.
But here's the thing: Joni Ernst, as the Republican negotiator, can demand that every word of gun control be stricken from the House bill. That would be all of Sections 101, 801, 802 and Title XII.
Better yet, Ernst could refuse to negotiate with Feinstein on anything that deals with an anti-gun wish list. It doesn't take a genius to figure out that negotiating over gun control will produce nothing but an unconstitutional bill! 
But, thus far, Senator Ernst has made no such commitment.
She needs to hear from you this week while she is back in the Iowa over the July 4th holiday.
Please take action (above) to email her offices in opposition to the gun control in VAWA.
And if you have time, please call her in the district office in Des Moines. You can use the action center (below), which will provide you with a call script.
FINAL NOTE: When calling Sen. Ernst's office, if they ask you for specifics in regard to the gun control provisions in the bill, you can tell them to look on the website of Gun Owners of America.
Featured GOA News & Updates