Keep up the heat on your lawmakers in Texas
Written by Rachel Malone
Published: 16 April 2019
Keep up the heat on your lawmakers in Texas!
Please use GOA's action widget to call your state representative. We have also provided a sample script to make the call easier. (If you're uncomfortable giving your phone number, please use your area code followed by 7 random digits.)
Urge your State Lawmakers to Support HB 1177
We're in the final six weeks of the Texas 2019 legislative session, and my days at the Capitol are getting longer as hearings stretch into the wee hours of the morning.
Here's an update on gun bills. Remember that things can move quickly at this point in session and the status of bills may have changed by the time you're reading this. You can always check a bill's status (or read the full text) by going to Texas Legislature Online and typing in the bill number in the search bar.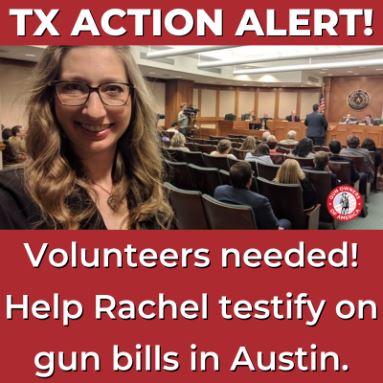 But before you peruse the update, please take a moment to ask your legislator to support HB 1177, Constitutional Carry for Disasters, which is scheduled for a vote in the House tomorrow (Wednesday 4/17).
Call your State Representative (using the "Contact Your State Lawmakers" section above). Tell the person who answers the phone that you are a constituent and you'd like your representative to vote for HB 1177.
Here are some reasons that we support the bill:
In general, the safest place for your gun is on you; it is available for protection and defense and you are able to guard against loss or theft.

It's wrong to make people choose between breaking a law or leaving their guns behind in a home or vehicle in unknown circumstances.

Requiring gun owners to leave their guns in their homes or cars, especially during a disaster, creates an unsafe situation.

Law enforcement is not always immediately available to help in situations that can be dangerous due to looting or those who intend to cause harm.
Here is a fact sheet on HB 1177 with some talking points you may wish to use.
Gun Bills: The Big Picture
Passed in One Chamber:
HB 121 (SUPPORT) passed in the House

— defense to prosecution for LTC holder carrying past a 30.06/07 sign but leaving after verbal notice

HB 446 (SUPPORT) passed in the House

— repeals ban on brass knuckles

HB 302 passed in the House

— prevents landlords from prohibiting firearms for tenants and their guests

SB 406 (SUPPORT)

— widens ability for school marshals to carry on-person
Scheduled for Floor Debate:
HB 1177 (SUPPORT) — House floor tomorrow 4/17

— Constitutional Carry for Disasters

SB 243 (SUPPORT) — Senate Calendar

— allows all school marshals to carry on their person

SB 741 (SUPPORT) — Senate Calendar

— prohibits HOA's from restricting firearms

SB 772 (SUPPORT) — Senate Calendar

— protects business owners who allow carry
Calendars Committee:
The House Calendars Committee decides if and when a bill will be heard on the House floor.
HB 86 (OPPOSE)

— "anti-celebratory gunfire" with broad consequences

HB 316 (OPPOSE)

— public awareness campaign for "firearm safety" (taxpayer funded messaging for "guns are not a useful tool, keep them always locked up away from you")

HB 2286 (SUPPORT)

— repeals Texas ban on suppressors and keeps Texas from enforcing federal anti-suppressor laws

HB 3016 (SUPPORT)

— clarifies visible gun in holster on car seat for LTC

HB 3231 (SUPPORT) — strengthens preemption laws

HB 2263 (SUPPORT)

— reduces firearm storage regulations in foster homes
Quite a few bills have been given public hearings but left pending and not voted out of the committee. If they are voted out in the next week or so (particularly for a House Bill), they could still stand a chance of passage if it's an issue that leadership wants to push through, but every day the chance of passage goes down as we approach more deadlines.
Although this list looks positive (since mostly only the good bills are advancing), it's a bit misleading.
That's because most of the good bills this session are small tweaks to the law that would not increase freedoms significantly for most people. And many of the bad bills promote dangerous gun control policies that would dramatically decrease your freedoms.
So, even if all of these good bills pass, we still don't end up with a lot more freedom — and I'm still having to work hard every single day to fight against serious gun control measures that are being considered.
My conclusion? We're not doing too badly for a Democrat-run state. Isn't that essentially what we are at this point?
Last Week at the Capitol
Last week I testified on about 10 gun bills. Thank you to those who showed up, registered, testified, and stayed with me to provide support during some hearings that lasted past midnight.
Some of the gun control bills I testified against:
HB 545

— taking guns from "mentally ill" without probable cause

HB 1208 — structure for surrendering firearms to county
HB 3191 — establishes a gun confiscation task force in each county for forced surrender of firearms in specific circumstances
HB 1207 — penalty for failure to report lost or stolen gun
All of these bills were left "pending" in the committee, which means (as of this writing) they have not yet been brought up for a vote to move forward. I'm working to be sure they don't pass.
This week at the Capitol
Yesterday, I testified in favor of two bills (HB 1126, protecting business owners who allow carry; SB 1691, allowing an expedited license for "at-risk" victims) and against one (HB 1445, changing the intoxication penalties but very poorly constructed, and exempts cops, allowing them to carry while drunk).
On the "at-risk" designation bill I noted that a much better way to solve that problem is to get rid of the license requirement and get rid of government-mandated "gun-free" zones, reducing barriers for ALL law-abiding citizens who need to protect themselves.
Tomorrow I will be testifying on a number of bills, including a very dangerous gun control measure, HB 1713, which is a major step toward forced gun confiscation.
If at all possible, please come to the Capitol and register your position on these bills in the following House committees:
Homeland Security Committee:
HB 1713 — NO

— severely limits options for those who are under a restraining order and can't possess firearms — all but requires them to surrender to the government

HB 257 — NO

— requires school districts to give lists to law enforcement of everyone who is allowed to carry

HB 1791 — YES

— strengthens the law that says government entities can't prohibit carry more than the state does

HB 2949 — YES

— "at-risk" designation for expedited LTC and eliminating "gun-free" zones
Juvenile Justice and Family Issues Committee:
HB 3257 — NO

— imitation firearm definition and prohibitions (we're asking for amendments to make this an acceptable bill)
State Affairs:
HB 4041

— Prohibits state & local government entities from enforcing federal laws that regulate a firearm, accessory, or ammo or that infringe rights listed in the 1st Amendment.
For more information, instructions, and bill descriptions, please see this week's Google sheet.
Thank you very much again to those of you who are coming to the Capitol to help me out. Registering on bills, sometimes testifying, helping distribute papers, and more. The on-the-ground support you are providing is absolutely essential to our work and very encouraging to me.
I'm in need of more volunteers to help out in the next few weeks. If you can be available to either be at the Capitol in Austin for at least a few hours or else watch livestreams from home and take some notes, please text me at 512-937-3006 and tell me the date and portion of the day you're available (morning, afternoon, evening/night). Or follow me on Facebook and watch for alerts that I post there.
For liberty,

Rachel Malone
Texas Director, Gun Owners of America
Featured GOA News & Updates