Take Action to Completely Deregulate Suppressors
Written by Erich Pratt
Published: 16 April 2019
Urge your Lawmakers to Support Suppressor Deregulation
Anti-gunners in Congress haven't wasted one second trying to shred the Second Amendment.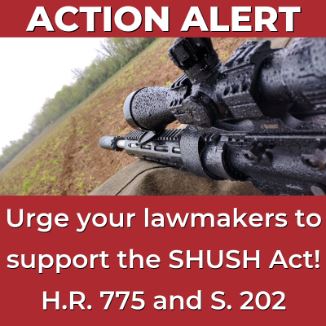 But now, a handful of 2A warriors in the House and Senate are FIGHTING BACK to protect your God-given rights with two new bills.
H.R. 775 and S. 202 (the SHUSH Act) would both deal a blow to the unconstitutional regulation of suppressors — freeing them completely from NFA regulations.
But the anti-gun lobby is already trying to block both bills, and we need the help of patriots like you to fight back.
Please send pre-written letters to your Senators and Congressman urging them to stand up for YOUR 2A rights and end the unconstitutional regulation of suppressors and other firearm accessories.

The future of the Second Amendment depends on legislation like this that would unapologetically protect YOUR God-given rights — just as our Founding Fathers intended.
And as America's ONLY no-compromise gun advocacy group, we are leading the fight to ensure that it reaches President Trump's desk.
But to ensure that YOUR voice is heard over and above the screams of the anti-gun mob, we need you to step up and tell your Senators and Congressman to pass these bills.
Featured GOA News & Updates