South Dakota House Passes Constitutional Carry!
Written by Gun Owners of America
Published: 18 February 2015
Your hard work has paid off.
Last week, the South Dakota state house, by a vote of 44-23, approved House Bill 1116, the constitutional carry legislation.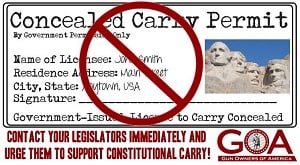 Under this bill, South Dakotans would no longer be required to get the government's permission to exercise their Second Amendment rights to carry a firearm to protect themselves and their families.
You can see the names of Representatives who voted wrong here.  (Make sure you let them know your extreme displeasure with how they voted.)
During debate on the House floor, Representatives conceded that they have been "getting lots of emails" in favor of the bill.  So we thank you for taking action on this bill — it has made a difference!
Gun haters in the chamber tried to scare supporters of the bill, noting that the spokesmen for two law-enforcement organizations in the state oppose the bill.  But what they neglected to admit was that a massive survey of rank-and-file officers — more than 15,000 cops nationwide — found that 91.3% actually FAVOR concealed carry!
The bill now moves to the state senate, where it is scheduled to be heard in committee on February 24.  So please urge your Senator to support the bill.
ACTION: Urge your state senator to support HB 1116 without any limiting amendments.  By using this link here, your state senator will be automatically selected, and then you can use the pre-written letter to help your comments to them.
Featured GOA News & Updates