New Hampshire Senate Passes Constitutional Carry!
Written by admin
Published: 18 February 2015
Your hard work has paid off.  
Last Thursday, the New Hampshire state senate, by a party-line vote of 14-9, approved Senate Bill 116, the constitutional carry legislation.  You can see the names of Senators who voted wrong here.  (Make sure you let them know your extreme displeasure with how they voted.)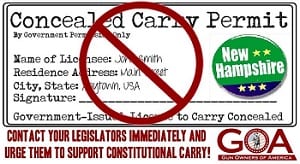 Under this bill, Granite Staters would no longer be required to get the government's permission to exercise their Second Amendment rights to carry a firearm to protect themselves and their families. 
The bill now moves to the House of Representatives where a companion bill, HB 582, will be heard in committee on Thursday, February 19.
Please plan to attend this hearing tomorrow at 10:30 am to show your support!  (The hearing is located in Room 201 of the Legislative Office Building.)
ACTION:  
1. Please contact your representative(s) and ask them to support HB 582 as "ought to pass" without amendments. By using this link here, your state representative(s) will be automatically selected, and then you can use the pre-written letter to help your comments to them.
2. The New Hampshire Firearms Coalition is asking supporters to attend the public hearing on Thursday to show your support for "constitutional carry."  Even if you do not wish to speak at the hearing, please attend and sign the blue form as being in favor of HB 582.
Featured GOA News & Updates