GOA Members Making Legal & Legislative Victories Possible
Written by Gun Owners of America
Published: 31 January 2022
GOA Activists Help Save the "Pro-gun Filibuster"
— Flood Sen. Manchin's Office with More than 2500 Calls in just 8 Days!
The Senate filibuster is the last remaining roadblock which keeps every draconian gun control bill imaginable from landing on Joe Biden's desk.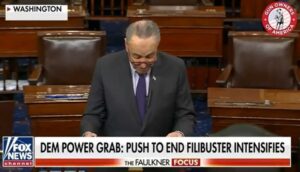 Red flag gun confiscation. Universal Background Checks that register gun owners. Supreme Court packing. Vote Fraud legislation.
All of this would get passed without the Senate filibuster—allowing Majority Leader Chuck Schumer of New York to enact his ugly agenda with only 51 (rather than 60) votes.
The difference of nine votes makes all the difference!
And that's why GOA members in West Virginia deserve kudos for their efforts in January. Just days before a vote on whether to save the filibuster from any limitations, GOA members flooded Manchin's office with more than 2,500 phone calls.
And in Arizona, GOA members in Arizona also responded in force by contacting Senator Kyrsten Sinema's office in large numbers.
Both Democrats broke ranks with Schumer, and delivered to him a crushing defeat. Your activism makes a difference!
Judge Sides with GOA in Blocking Illegal Philly Gun Ban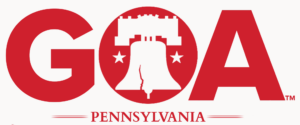 The City of Philadelphia passed an illegal ordinance in January of 2021 that banned the making of homemade firearms. Thanks to your support, GOA filed suit in May, but the City stalled the case by claiming that a federal issue was raised.
GOA beat Philadelphia's attempt to move our suit to federal court, and on January 5, a Pennsylvania judge entered an injunction against the City to prohibit enforcement of the illegal ordinance.
The case is still pending final resolution, but you can read about a more in depth report here.
State Representatives praise GOA activism in New Hampshire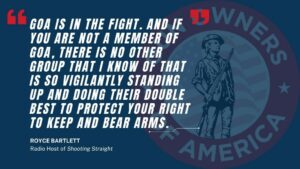 GOA members in New Hampshire are getting loud … and legislators are taking notice.
After testifying on several bills while at the legislature in January, Alan Rice was approached by several state representatives. They told Rice how very impressed they were by the huge number of emails they have received from GOA activists.
To be sure, we hear these types of reports all over the country—which is why members like you deserve a pat on the back. The emails that you send truly do make a difference.
And GOA representatives can only be successful if legislators know that we are backed up by thousands of committed gun owners!
GOA's Legislative Efforts Praised by Pennsylvania Elected Officials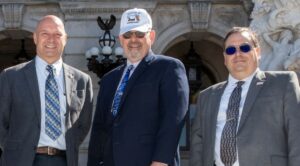 GOA was a driving force in getting Constitutional Carry passed in both chambers of the state legislature before it was vetoed by Governor Wolf. Our efforts were recognized in a January 14 article in The Reload.
State senator and gubernatorial candidate Doug Mastriano (pictured on the left) praised GOA and the Pennsylvania Director, Dr. Val Finnell (on right), saying, "GOA under Val did a fantastic job putting together a unified front for the GOP and even peel off a few Democrats as well."
"So, the grassroots effort that he had across the state here was really impressive," Mastriano said. Positive comments from staffers at the Capitol were also mentioned.
Dr. Val also did an exclusive interview with The Reload, describing how GOA's legislative approach differs from other gun rights organizations and how this was a key to our legislative successes in Pennsylvania. This article is for subscribers only.
GOA's Industry Partnerships extend from Coast to Coast
Thanks to recent relationships forged at January's Shot Show in Las Vegas, GOA now has partnerships with gun industry businesses in all 50 states.
Launched in 2020, GOA's Caliber Club program has partnered with thousands of gun stores and ranges all across the country. And we have a Strategic Partnership Program that has affiliated with dozens of gun manufacturers, like Kalashnikov USA.
You can find out more about the Caliber Club and ranges near you by going here on the GOA website.
GOA helps train dozens of women in Ft. Worth, Texas
GOA's Antonia Okafor Cover (right) with just two of the many women
who were trained how to shoot at the Defender Outdoors Indoor Range in Ft. Worth.
Handguns. Rifles. Full-autos. Activism training. All of this took place at GOA's Empowered 2A event in Ft. Worth last month.
The event was organized by Antonia Okafor Cover, who is GOA's National Director for Women's Outreach. About a third of participants said they had never shot before. And participants praised the head instructor, Desstoni Johnson, for her excellent teaching.
At the end of the day, the women had shot over 4,000 rounds of ammunition during their training!
Stay tuned for information regarding the next GOA Empowered 2A event in Pittsburgh. Details to follow.
GOA helping to expose ATF registration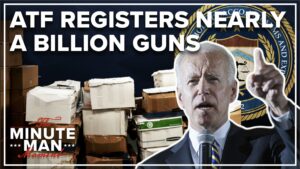 In January, GOA was able to help expose the Biden administration's overreach against gun owners.
For more details, check out Monday's article in the Washington Free Beacon which shows that the Biden administration is now sitting on almost 1 billion records relating to firearms purchases. Read the article and then take action to defund the ATF here.
Also, be sure to check out these other stories or videos where GOA was involved:
Featured GOA News & Updates