*Warning: Graphic* Video Shows Moments Before And After West Freeway Church of Christ Shooting
Written by Brandon Curtis, Concealed Nation
Published: 29 December 2019
Video is circulating the internet that shows the moments just before the shooting at West Freeway Church of Christ in Texas took place, as well as the moments after.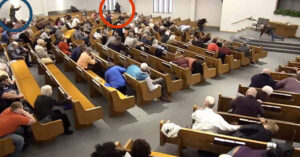 Moments before the suspect became active, we can see the security guard standing next to the wall, and what appears to be the same suspect sitting down among the congregation.
The second image available [at the Concealed Nation link below] is taken directly after the suspect started firing, and we can clearly see the armed security guard with his firearm up and on target.
The full video shows the suspect go up to a person standing along the wall and appears to speak with him prior to opening fire. Three shots are then heard; two from the suspect and one from the armed security.
Read more and see video at Concealed Nation
Featured GOA News & Updates