Virginia Dem who joined GOP to reject gun control bill says 2nd Amendment activists made a difference
Written by Julia Musto, Fox News
Published: 19 February 2020
Virginia Democratic State Sen. Chap Petersen said Tuesday he was surprised that a controversial assault weapons ban bill was brought to the state's Senate from the House of Delegates.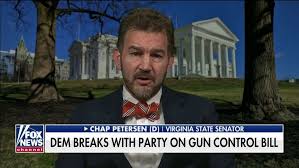 Appearing on "Fox & Friends" with host Pete Hegseth, Petersen said that he voted to stop the gun-control measure because it needed some amendments he could not overlook.
"I had two problems with the weapons ban bill we voted on yesterday," he said.
VIRGINIA LAWMAKERS REJECT NORTHAM'S ASSAULT-WEAPONS BAN, AS DEMS BALK
According to Chapman, the first problem was that the categories of weapons and component parts that were impacted were too broad.
Secondly, he said that the retroactive portion of the bill was unfair.
"In other words, if you went out and legally purchased a weapon or legally purchased a particular part, just simply by owning that you could become a class VI felon or class I misdemeanant. And that, to me, it's not fair, it's not due process, and that was what really bothered me the most," he told Hegseth…
The bill, which advanced after a shooter killed 12 people at a Virginia Beach municipal building in May of 2019, would have prohibited the sale or transfer of assault weapons as of July 1, but critics claimed the measure was not clear enough on how it defined assault weapons.
Northam, who had personally lobbied senators ahead of the vote, was "disappointed" in the outcome, but expects the state's Crime Commission to give the measure the detailed review senators had called for.
Any action on assault weapons in Virginia is now put off until at least 2021. Virginia's legislative session will end on March 7.
Read more at Fox News
Featured GOA News & Updates