Violent Assault Leads To A New Gun Owner In Virginia
Written by Cam Edwards, Bearing Arms
Published: 17 July 2019
A few minutes before Billy Dean was beaten in front of his home, the pair allegedly assaulted another man standing on his driveway.
"I look over and see someone standing right by the shed and I said, 'Can I help you?' and he said, 'Get on the ground mother f'er!" said Kris Eiben.
He was then assaulted in his driveway in the Rose Garden Estates neighborhood. Home surveillance shows two men raising and pointing a gun at him.
"They were here when I got home," Eiben said. "My family was inside."
Eiben told local media that the incident has left him a changed man when it comes to the idea of self defense.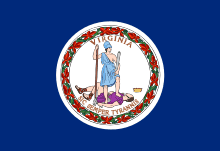 "I've never been much of an advocate for guns but this has made me get my concealed carry and I will be purchasing a pistol," Eiben said.
I'm glad Kris Eiben is alive to change his mind about guns, and I hope that not only will he purchase a pistol to go along with his new concealed carry license, but that he'll be advocating against the gun control plans of Virginia Democrats in this year's elections.  If anti-gun lawmakers get their way, it would be a lot tougher for Eiben to protect himself and his family in the very near future….
Featured GOA News & Updates