Take action to stop Gov. "Blackface" Northam's gun control
Written by Erich Pratt
Published: 17 June 2019
Tell Legislators How Gun Control in VA Beach Resulted in Dead Bodies
Email messages to your Senator and Delegate. Urge them to reject Governor Northam's gun control agenda. And make sure you contact the Republican Senate Majority Leader at the bottom of this alert, as well.
City Worker Obeyed Virginia Beach's Illegal Gun Ban, Paid with Her Life
In GOA's last state alert, we told you that Governor Ralph Northam was using the tragedy in Virginia Beach to call for New York-style gun control in Virginia.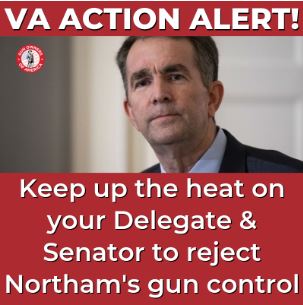 The sad truth is that the loss of life in Virginia Beach was entirely preventable — except that the City of Virginia Beach violated the laws of the Commonwealth by enacting an illegal local gun ban.  
The Virginia-Pilot is reporting that one of the victims, Kate Nixon, considered carrying her self-defense firearm to work on May 31.  
Sadly, Mrs. Nixon opted instead to obey an illegal city ordinance, and she paid with her life.
The murderer was a city employee who was most certainly aware that his victims were disarmed and would be unable to fight back.
It is very possible that Kate Nixon could have used her firearm to completely prevent the tragedy in Virginia Beach.
At a minimum, she could have defended her life and those who were immediately near her.
Consider just some of the recent cases where women have used firearms to stop violent assaults — just within the past couple of weeks:
* A Wisconsin woman shot a larger, more powerful male who assaulted her recently.
* An Ohio mom shot a home invasion suspect when her children were sleeping upstairs.  
* A Florida woman held a home invader at gun point for 26 minutes waiting for the police to arrive.
This is what Kate Nixon could have done. But she was prevented from doing so because she was forced to choose between her salary and her life — and she tragically lost her life on May 31.  
No law-abiding person should ever have to make this choice.
The General Assembly must add penalties to VA's preemption law
Since the Governor is forcing the General Assembly to return to Richmond, they should use their time constructively and add penalties to Virginia's firearms preemption law — at Virginia Code Section 15.2-915 — so that once and for all local gun control will be abolished.
The General Assembly has wisely prohibited local gun control.
Preemption is an important law; otherwise, someone driving north on I95 from Emporia to Fairfax, while carrying a gun, could quite literally dart in and out of legality as they moved in and out of different local jurisdictions.
However, the members of the General Assembly seem to have not contemplated that local officials would ignore the law.  This is exactly what the City of Virginia Beach has done — and eleven innocent people lost their lives in an illegal gun free zone.
Virginia needs to do add penalties to its preemption statute — and fast.  
We also need a Constitutional Carry law so that no one is forced to wait for the government's written permission to exercise their Second Amendment rights.
If enacted into law, these two ideas will go a long way towards making our commonwealth a safer place.
GOA activists putting tremendous heat on Richmond legislators
Already, hundreds upon hundreds of GOA activists have taken action to contact their Delegates and Senators.
So we've added new messages for our "crack troops" to send. Here's what I need you to do:
1) Please contact your Senators and Delegates (above) and urge them to reject the Northam gun control package and instead to add penalties to Virginia Code Section 15.2-915.
Our pre-written letter will also urge legislators to make Virginia a Constitutional Carry state!
2) Contact Senate Majority Leader Tommy Norment (below). Last time, we asked you to contact the House Speaker — and hundreds of you responded by emailing his office. Thank you so much; this makes a tremendous difference!
But we can't ignore the Republican Senate leader. Press reports indicate that the paid anti-gun mob is swarming his office, calling on him to push gun control in the Senate.
So please contact Sen. Norment. The email to him will encourage Norment to reject gun control (in any form) and to push for an end to gun free zones and to work towards making Virginia a Constitutional Carry state.
3) Finally, please help GOA mobilize even more gun owners in the Commonwealth to oppose Gov. "Blackface" Northam's gun control agenda.
GOA is debunking the myths of gun control in the aftermath of the Virginia Beach tragedy. You can hear an interview that I did with Fox News here — or by clicking on the purple meme.
Thank you so much for keeping us on the front lines.
Featured GOA News & Updates